JUBILEE FLAGS Here are my Union Jacks that I have drawn for the Queen's Jubilee, which you can use for your artwork:
I have had lots of drawings made of all my Treasures and I am inviting you to download them in my PDF Colouring Books (at the bottom of the page). One is for pictures and one to make cards.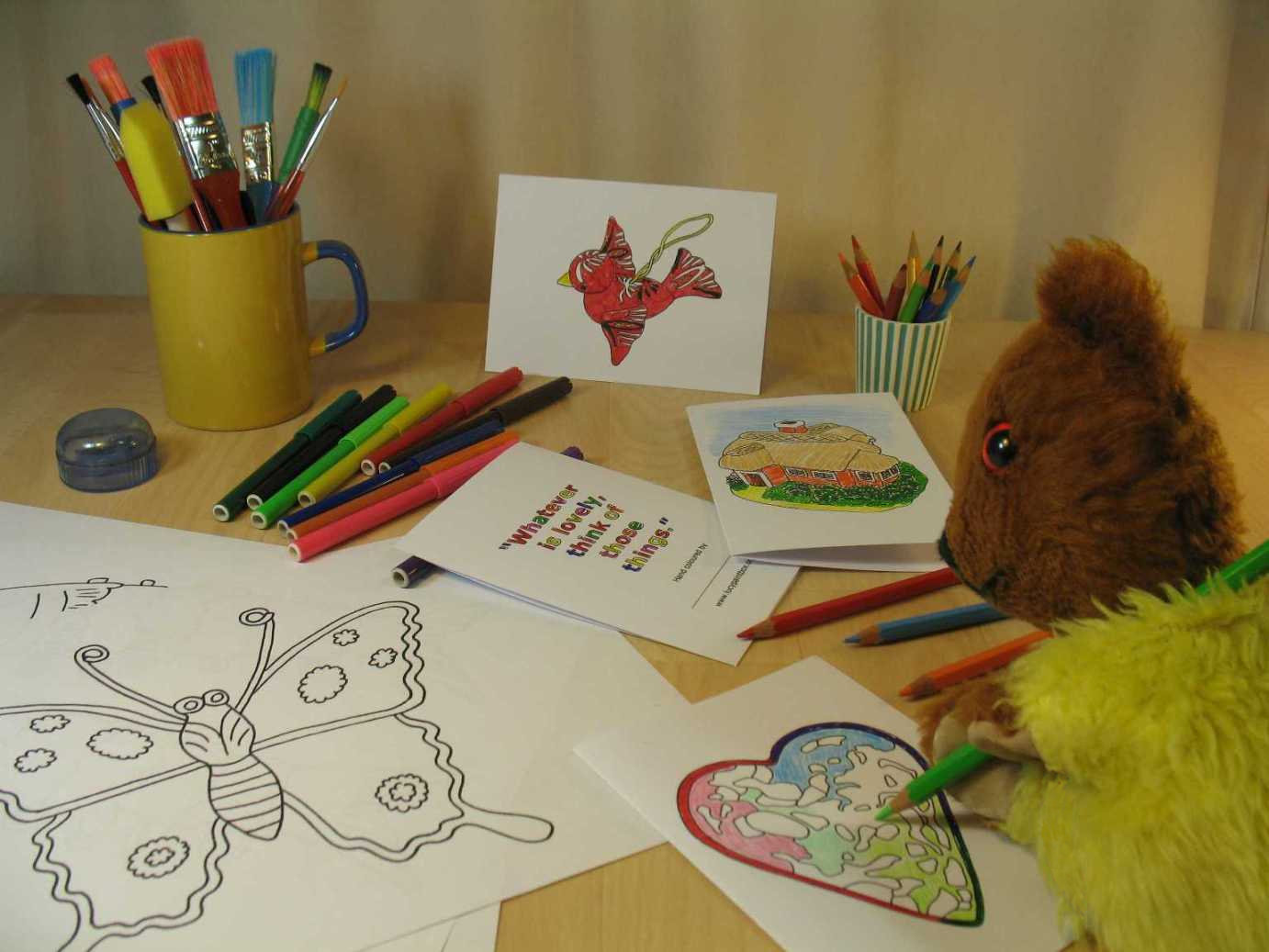 My favourite is the glass heart. I have done a dark outline with marker pens, and am doing the big areas in pale coloured pencils. Then I will fill in the little blobs with bright colours. I like coloured pencils because they do not smudge and I can get into all the corners.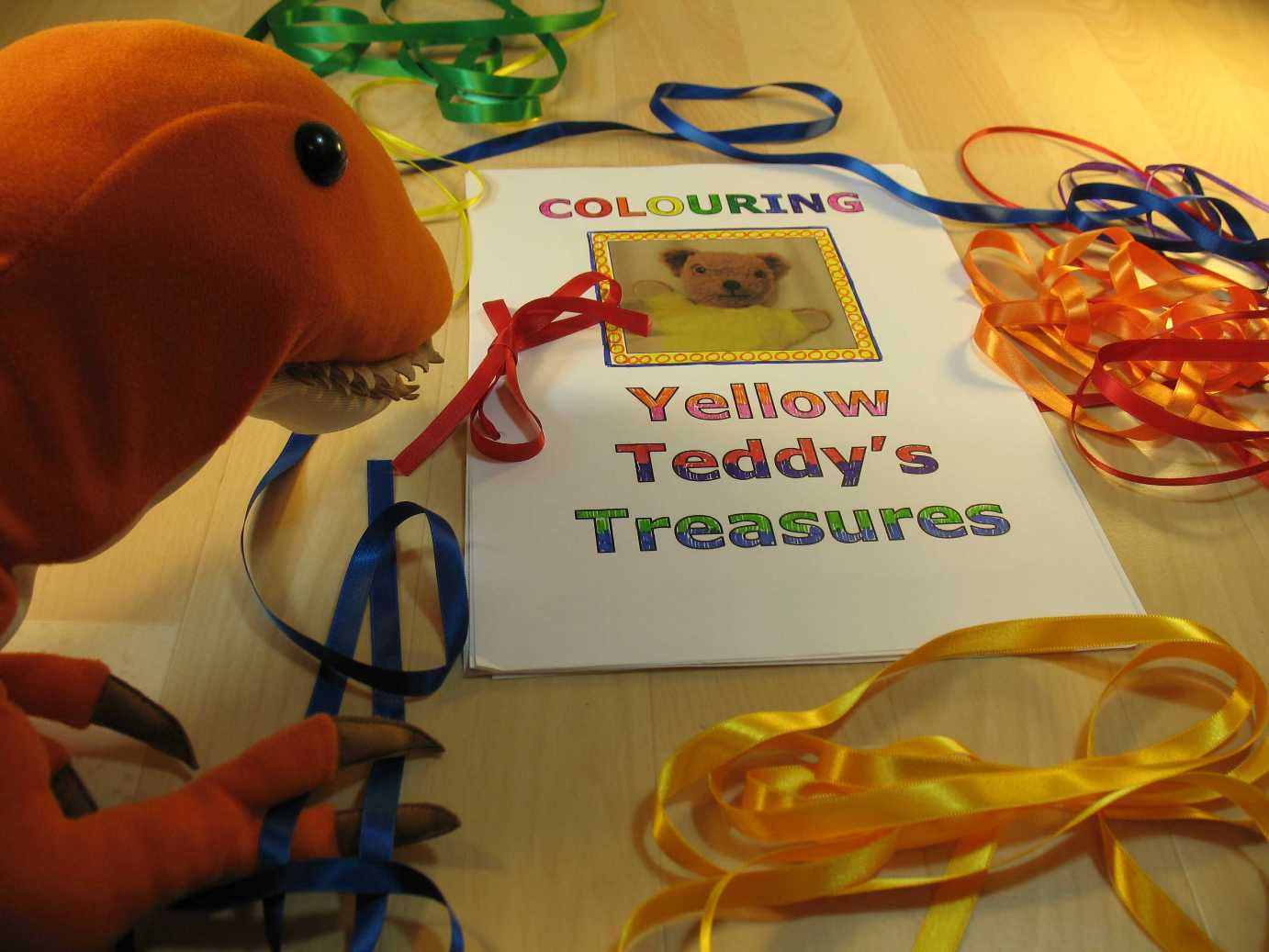 If you make holes in one side, you can make up a really good Colouring Book. It looks quite smart if you thread a piece of red ribbon through the holes and tie it at the front. Here is Dino having fun with all the ribbons. I think he realises he can't use them all on one book. The ribbon has to be a bit loose so that the pages can turn. Wool and string are good as well because you can put a tassel on each end.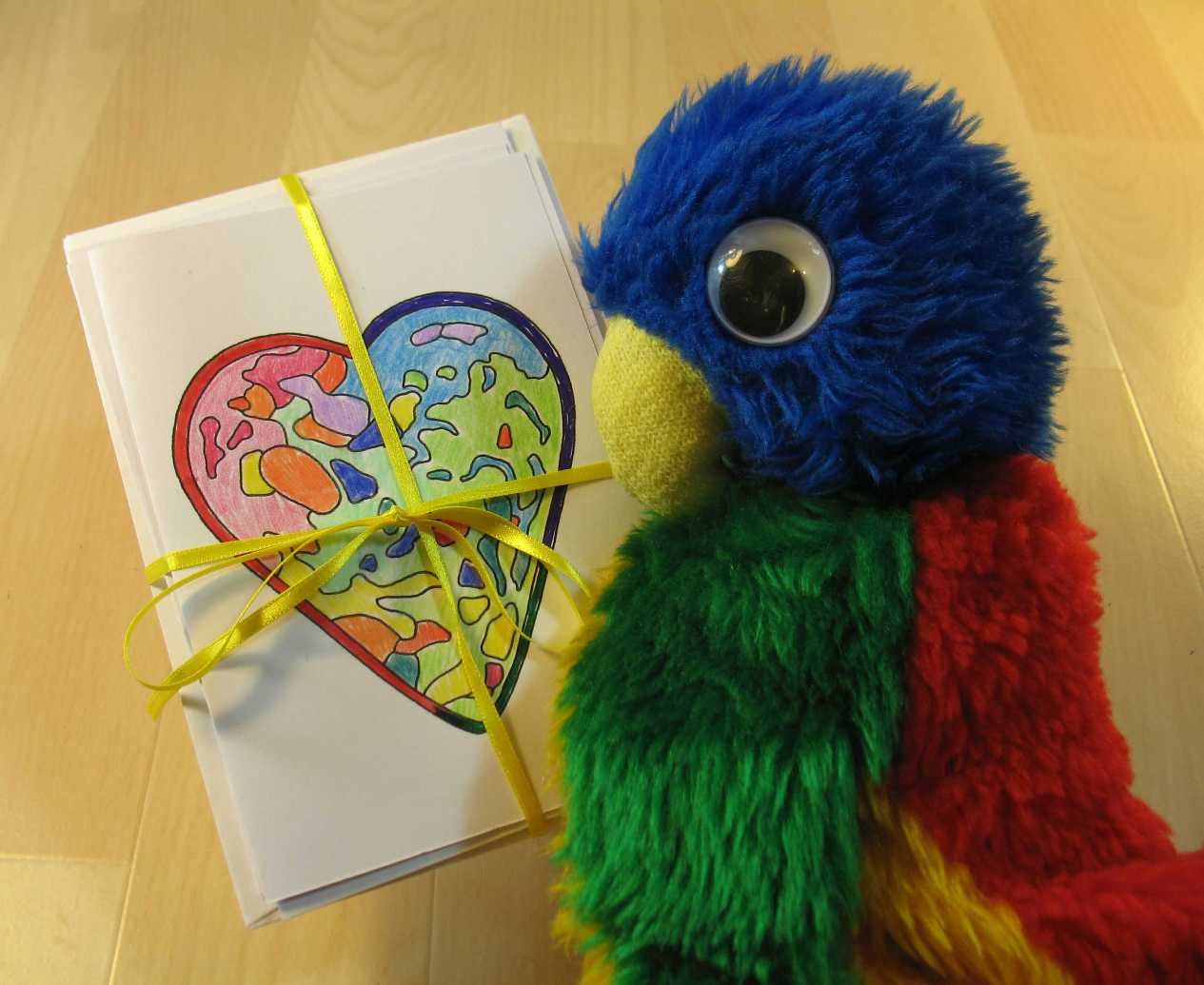 Here is Blue Parrot modelling a card gift pack. He has been asking for ages to be in a photo!
You can send people the cards, or give them a pack of cards as a present. If you make your own cards, you do not have to spend any money, and people really like something you have made, because it shows you care about them. They will always keep it and years later they may get it out of a secret drawer and remind you of it! By then you will be a lot more practised and you can say, "Ah Yes, but you should see my stuff now!"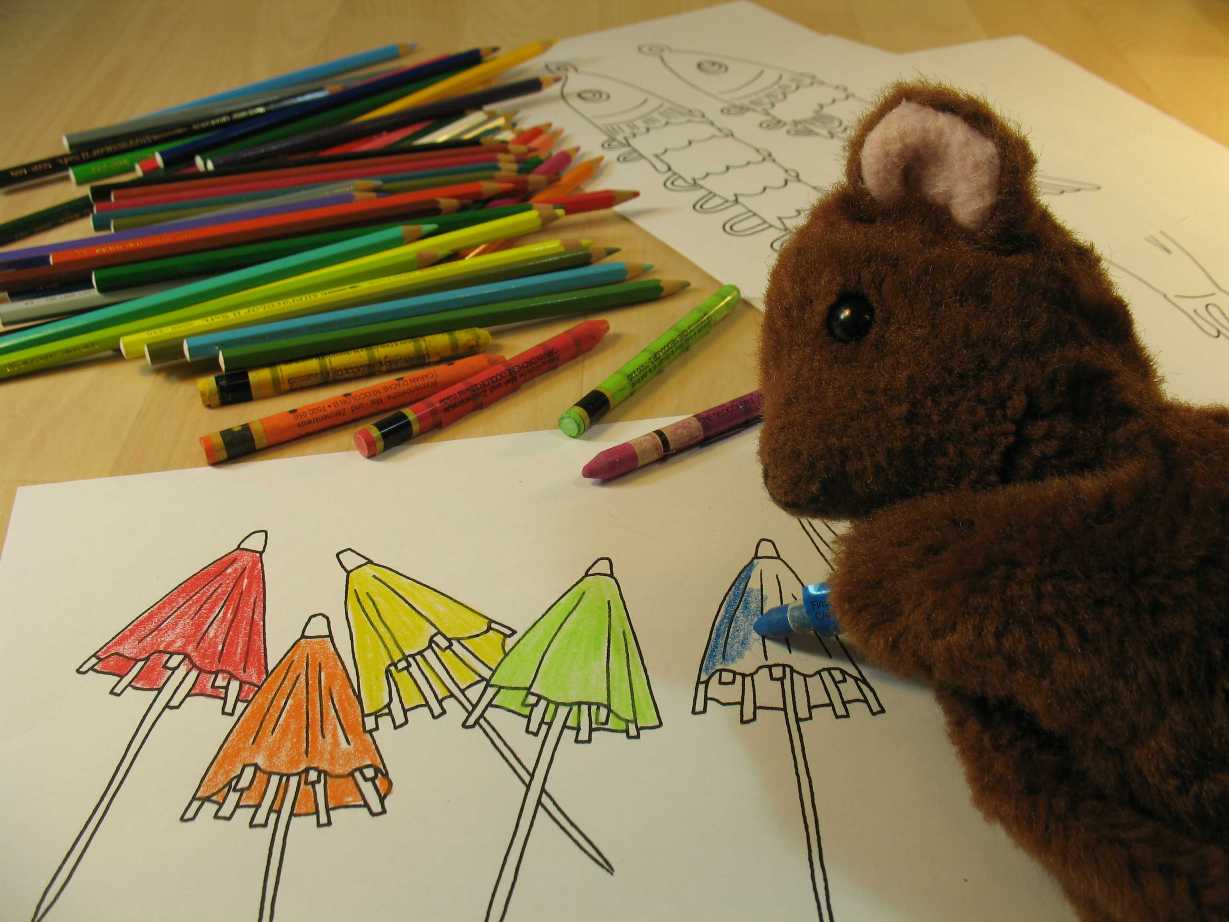 Brown Teddy has done his favourite parasols picture with water crayons. You can spread the colour with a brush or a cotton bud. You only need a tiny bit of water otherwise the paper may get wrinkly.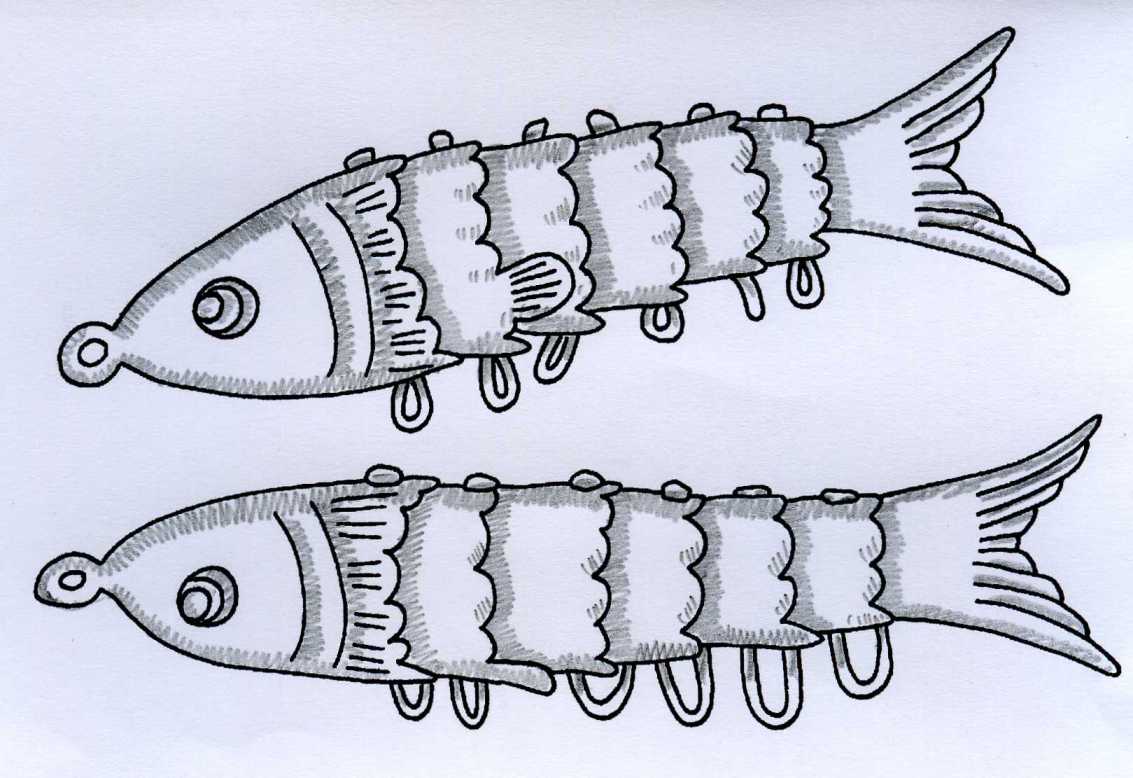 You can make a beautiful picture with just a black pencil. You shade all the edges, and then you shade everything that is underneath something else, like the scales on the keyring fish. If you do it really carefully and put more detail in, it will look so real that you might think it was a photo!
I am wondering what to put in the next colouring book. Brown Teddy would like fashion clothes and Dino wants cars. It is better for Dino to do colouring rather than lying on his beanbag all day. I will have to get some giant crayons for him, because if he has paint it will end up on the ceiling and everywhere!
TREASURES COLOURING BOOK DOWNLOADS
Treasures Colouring Sheets PDF 5.5 MB
This version is 30 full-page colouring sheets. If you are working hard to make a masterpiece, use thick paper and really good paints and pencils. A picture done in marker pens may fade in the daylight, so store them in a special Paintings Folder to keep them looking good. Even better, scan them into your computer so you can share them!
Treasures Colouring Cards PDF 4.8 MB
This version is to make smaller cards and postcards. You should print them on white card. If you print them on ordinary paper, you can cut out your painting and stick it to a blank card. That way you can do some practising without wasting cards.
If you don't have glitter and sequins to decorate the pages, you can use pieces of coloured material or bits of coloured magazine pages, to get some extra bright colour.