1 July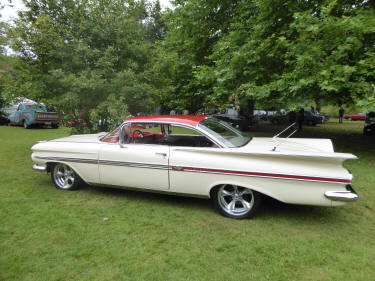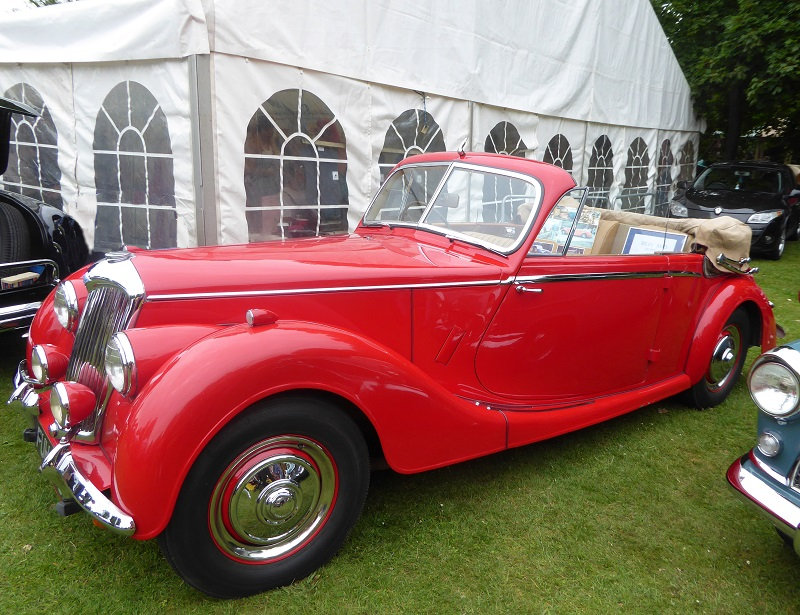 This is the vintage car festival in the park, with cars, bikes, stall vintage items such as clothing, household things and toys, and a small funfair. There was music and dancing in the tents. All the cars were spotless and perfect.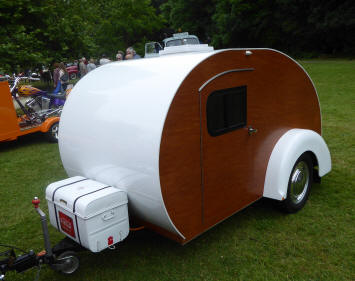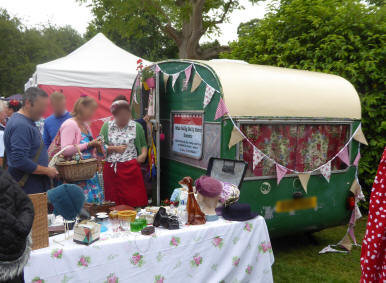 This tiny caravan is just right for children and teddies, but I think it is probably used to tow the luggage. This is the green sweet shop caravan, with all the old sweets that people remember.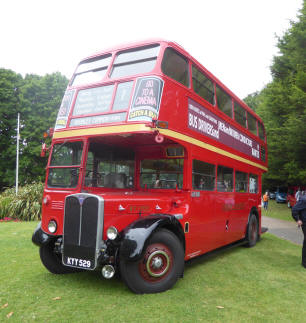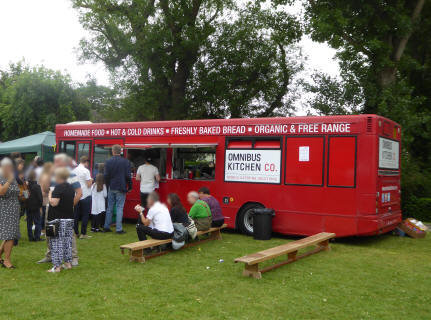 This is an old Routemaster bus, they are still kept going by enthusiasts. This more modern bus is being used as a snacks vehicle, the Omnibus Kitchen.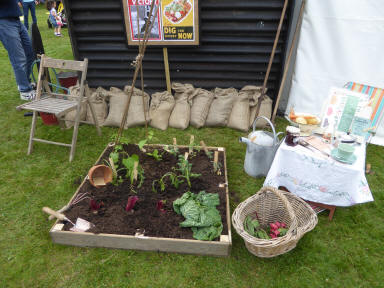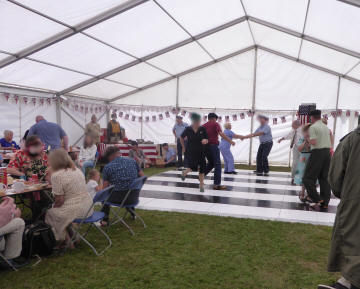 This is the wartime Dig For Victory garden, and a shelter behind. In this tent was lots of energetic dancing to wartime music.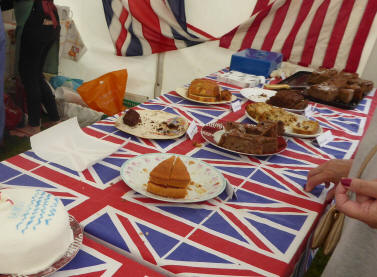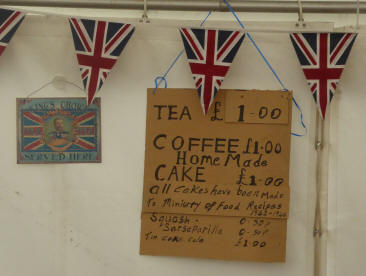 All the cakes were made to wartime Ministry of Food recipes.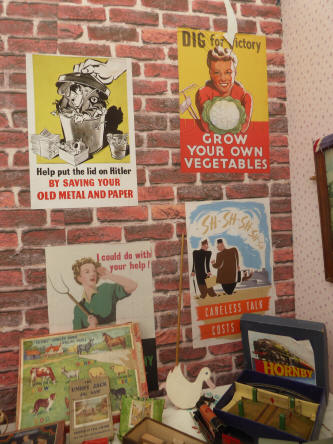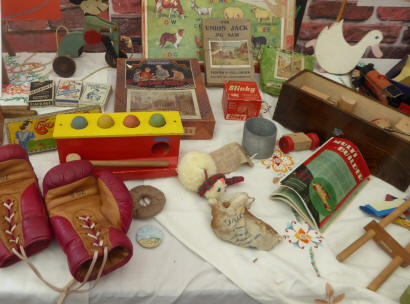 In the corner of the tent were lots of old-fashioned toys and posters on how people could help the war effort.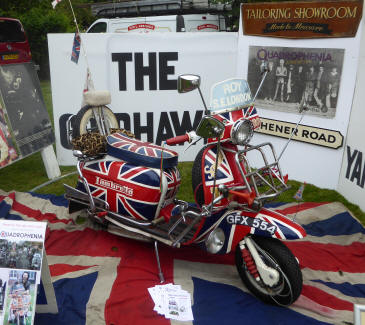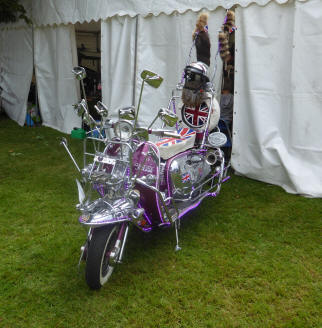 These bikes would certainly get noticed going down the road.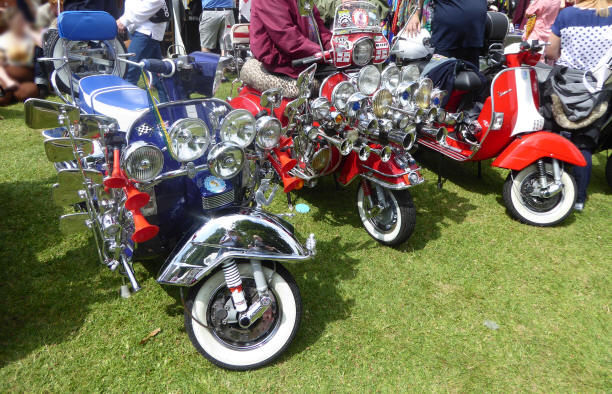 Even more headlights, and I wonder if they ever have them all switched on at once, it might be a bit dazzling for the other motorists.
2 July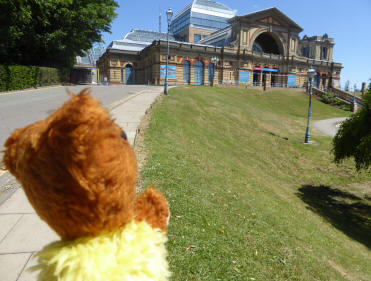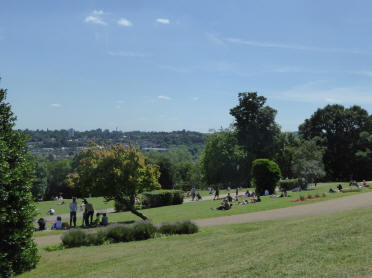 We went to Alexandra Palace in north London. In front is a sloping green with views over the whole of south London.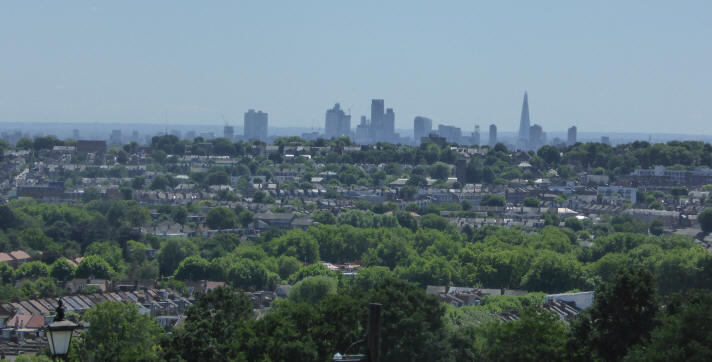 In the far distance we could see central London and the Shard spire.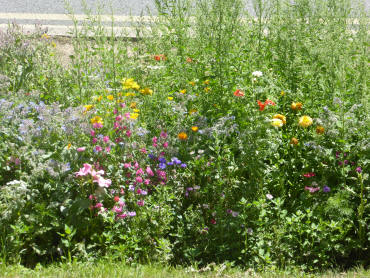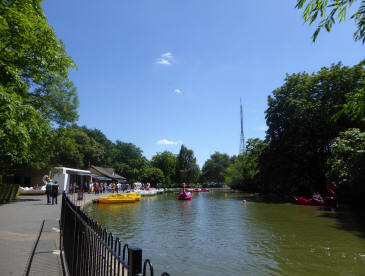 Along the lower edge in front the building they have a very long row of cottage garden flowers and we were there just in time to see the last few in bloom. Most of the others had gone to seed. Round the back is a park with a boating lake.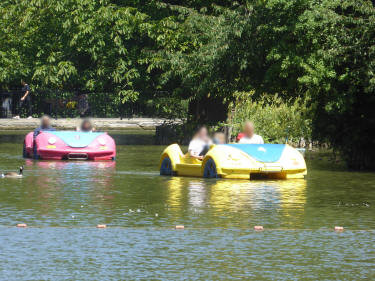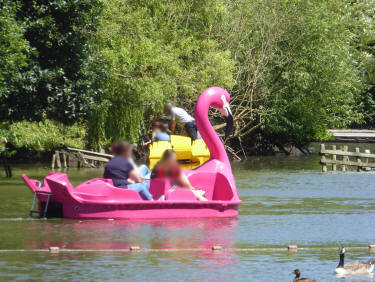 We found a seat round the back of the lake and had our sandwiches, and watched all the pedal boats. It was very strange seeing floating cars. The others were swans, dragons and this pink flamingo.
3 July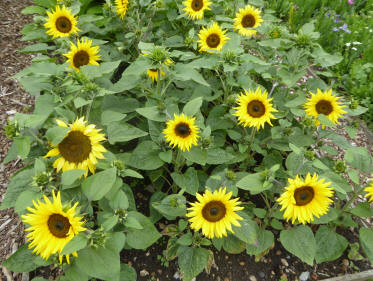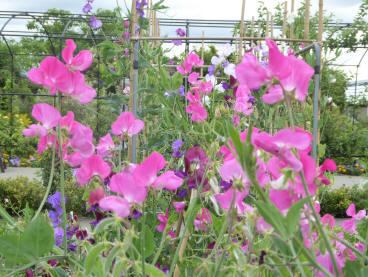 We went to Hall Place to get lots of flower photos for a video we want to make. These are in the cut flower garden. The sweet peas are very fragrant.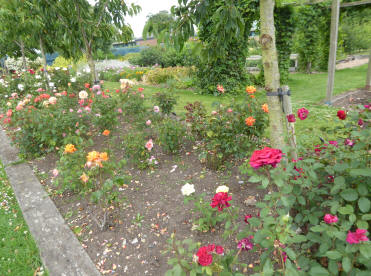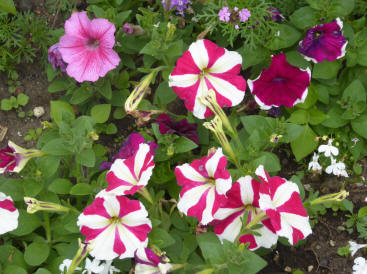 Then we went to the first rose garden and took a picture of every type of rose. Then on to the other flower borders. These pyjama striped petunias are my favourite.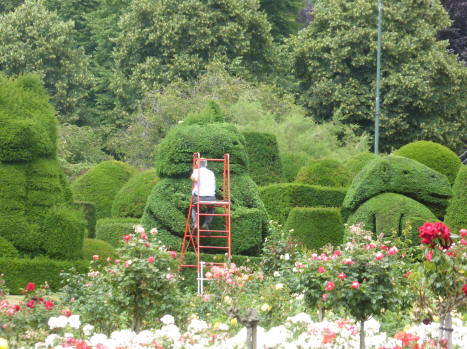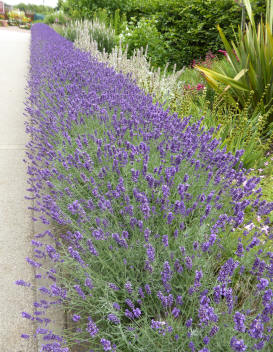 Here is one of the gardeners trimming the topiary beasts that overlook the main rose garden. On the way out we went back past the long row of lavender. It was alive with very busy bees.
4 July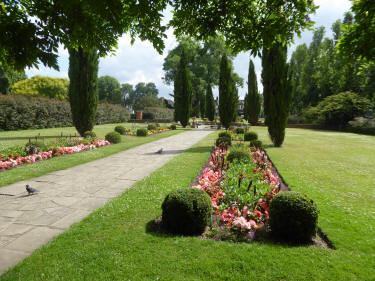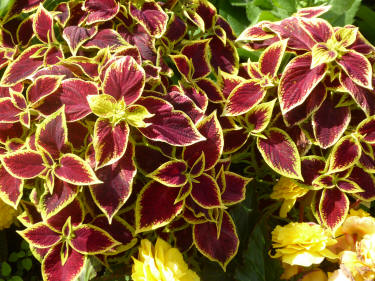 We went to Well Hall Pleasaunce and this is the Italian garden. The coleus leaves are as good as flowers.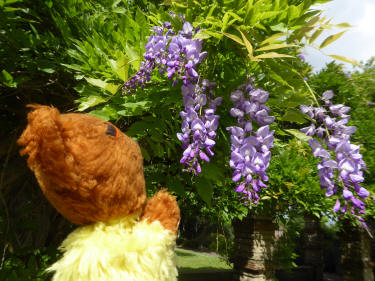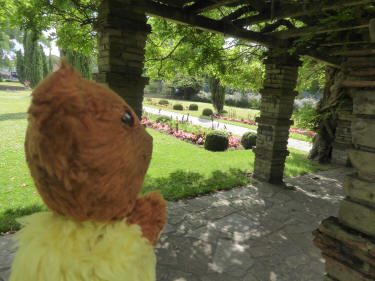 I am glad I am here whilst these wisteria flowers are still out. The pergola is cool and shady.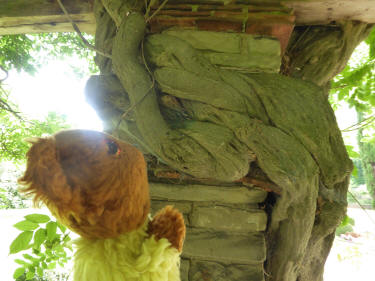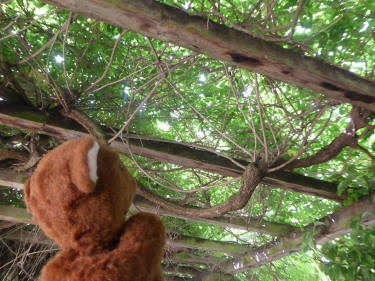 The wisteria stems have broken the brick column but they are holding it up. Brown Teddy says it looks like a good place to shelter from any rain, but then it would start to get very drippy after a while.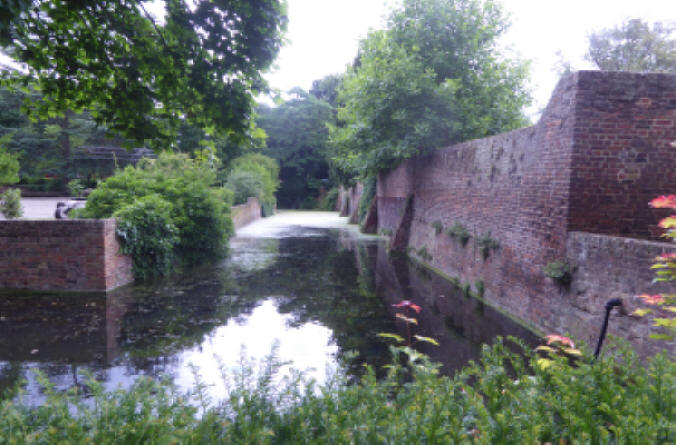 Here is the moat. There used to be a house in the middle island, it is now a square with seats, with a bridge at two sides.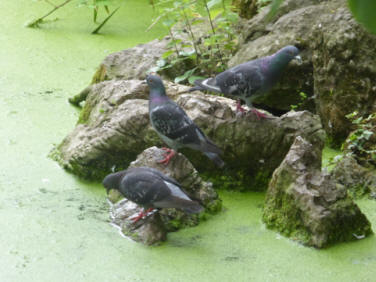 The far end of the moat was covered in duckweed. These pigeons were not quite sure if it was water they could rink. This duckling was leaving a long trail through the duckweed.
5 July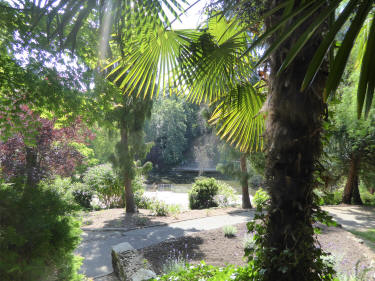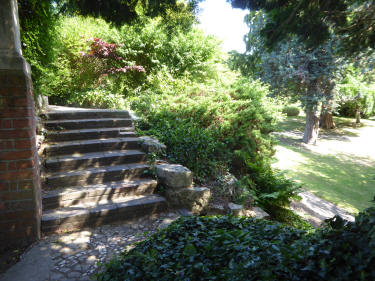 This is the park behind Bromley High Street. It is very steep sided, with a small lake at the bottom. I like to go to the top of the steps and get a good view.

Back home the goldfish were all lined up in the warm sunny shallows.
9 July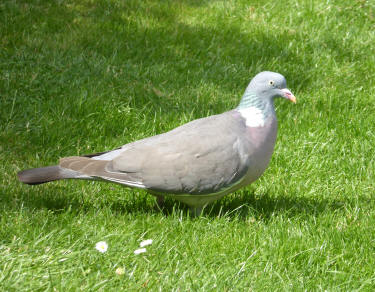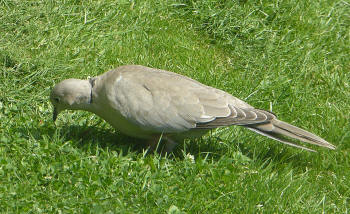 A good day to see all our birds, Woody the wood pigeon, and the dove that comes for a drink and sometimes stays to see if there are any crumbs in the grass.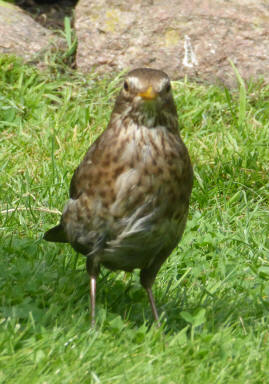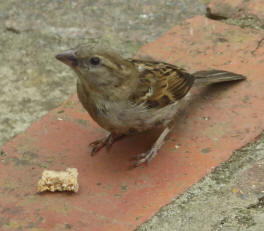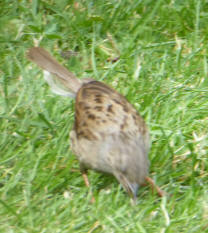 Our regular female blackbird, who has a spottier pattern than usual. This sparrow knows how to ask for bread by flying up at the window. The dunnock can only eat very tiny crumbs.
10 July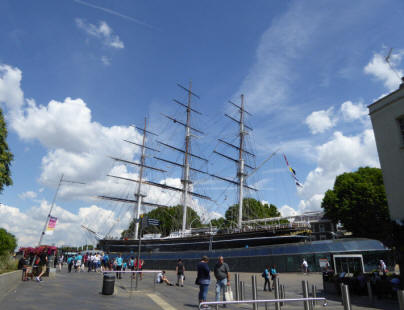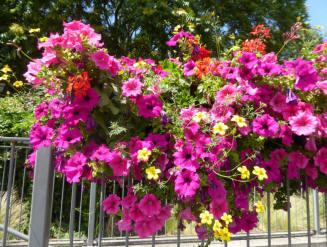 We went to Greenwich. This is the Cutty Sark clipper ship. The hanging flower displays of petunias were brilliant in the sunshine.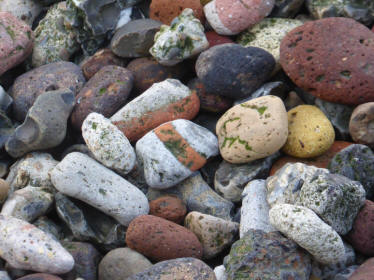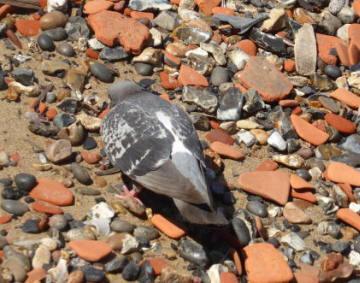 We watched the river for a while. The stones and worn down bricks make it quite colourful. This pigeon kept finding tiny titbits amongst the stones and flying back with it over and over and over again to a barge where we think it had a nest. It seemed a lot of flying effort, taking one fly at a time to its nestlings!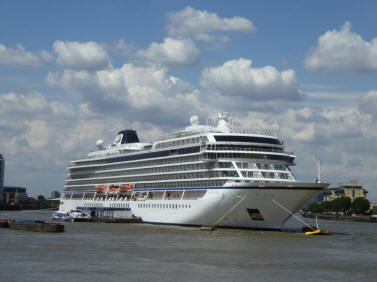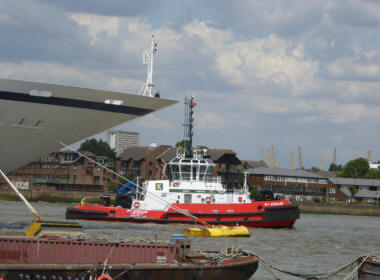 What a surprise, we saw this giant cruise ship the Viking Sea moored at Deptford Creek. It was about to leave and the pilot's tug boat was getting ready.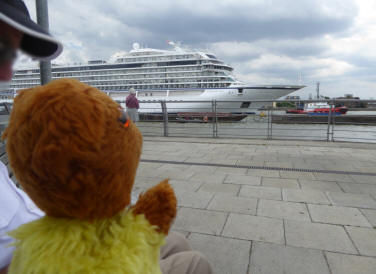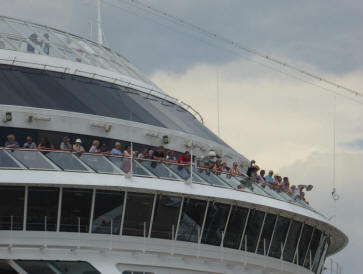 We had our sandwiches while waiting for it to start to leave. Lots of passengers were lined up on the front balcony. It was on its way to Stockholm in Sweden.
11 July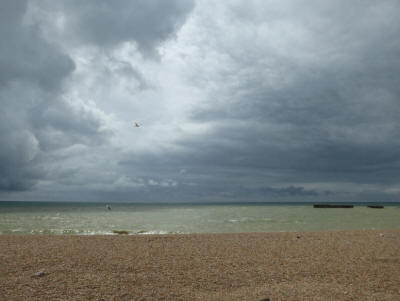 Today we went to Hastings. This sign says "Cherries" and further on there will be people selling them by the roadside. The weather at Hastings was cloudy and bright but we had to keep an eye on those grey clouds.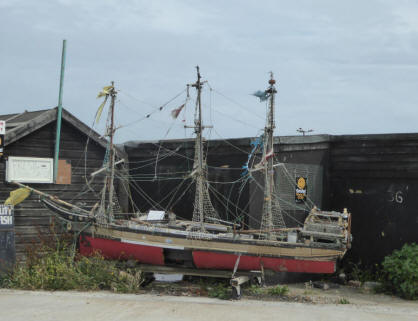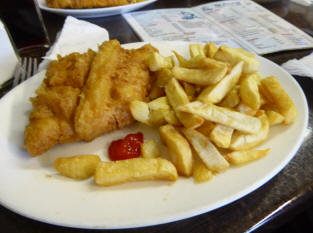 This rowing boat has been done up to look like a clipper ship using bits of old rope and nets. We had fish and chips in The Mermaid restaurant, and while we did there were some heavy showers of rain.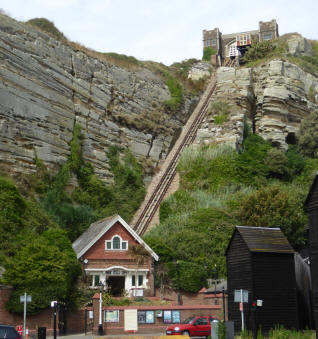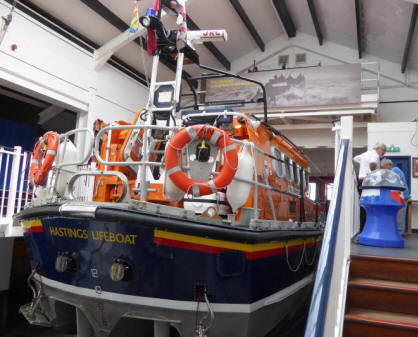 The rain cleared away quickly. This is the East Cliff railway. We had a look in the Lifeboats Station.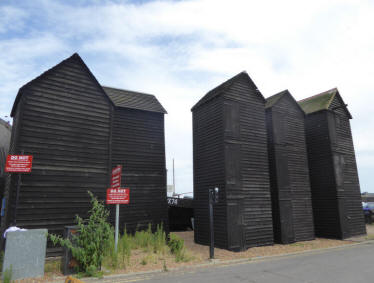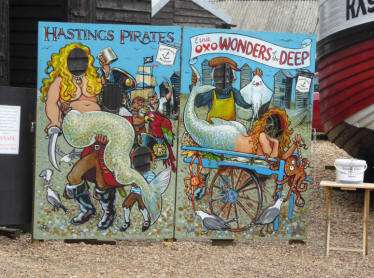 The famous Hastings net sheds. I like these mermaid paintings where you can put your face through the holes for a photo, and then put something in the collection bucket as a thank you.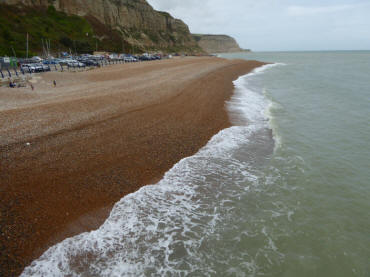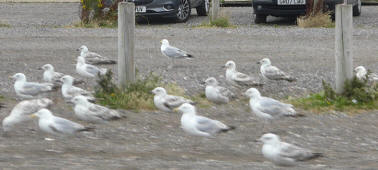 We spent some time watching the foamy waves come in. As we left the car park, lots of seagulls were standing around hoping for leftovers.
13 July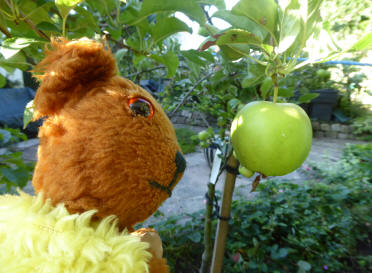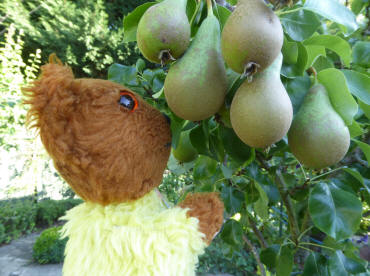 Some of my apples are getting quite large, and the pears are growing bigger as well.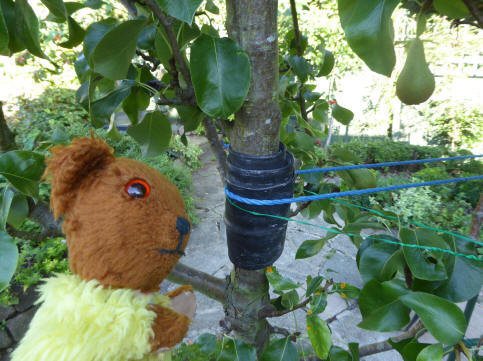 The pear tree is not a big one and was leaning quite badly, so we have had to rope it to a very strong wooden post across the garden. When the pears are gone, we are going to hard prune the branches so it grows more upright in future.
15 July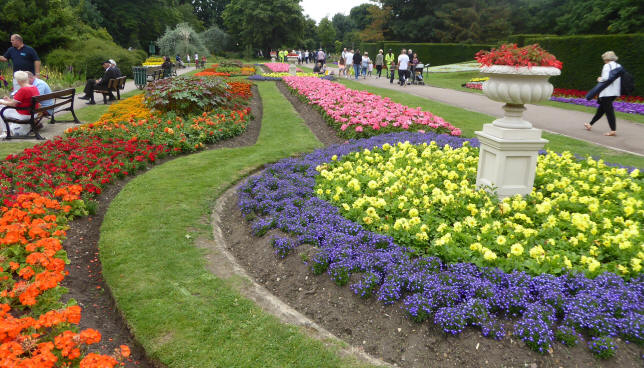 We went to Central Park in Dartford. All the bedding is very bright.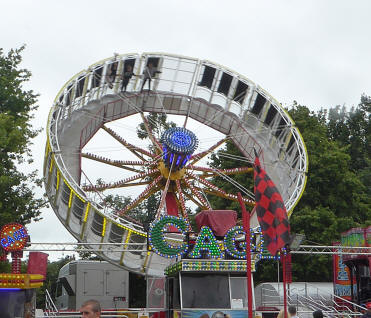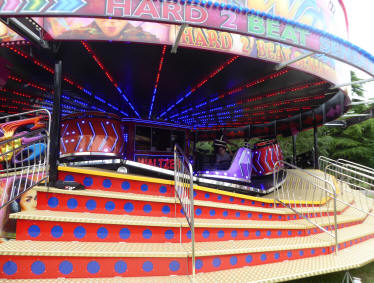 Over the back was a fairground. This is the cage that spins round and then goes upright. This other ride was very noisy, with the rumbles and the loud music.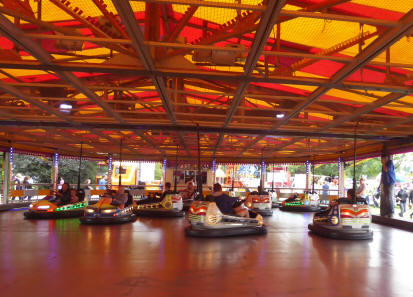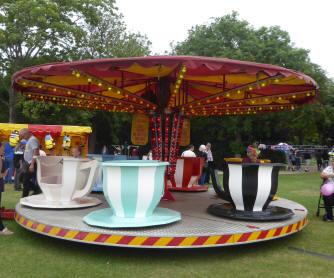 We can all watch the Dodgems for ages. The cup and saucer ride is better for smaller children.
16 July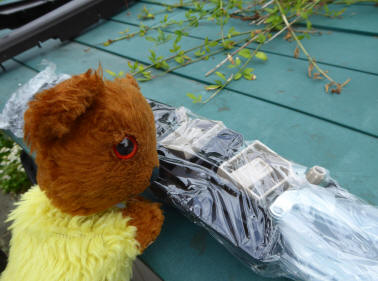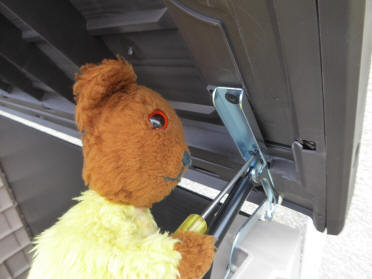 We have a new garden storage box and I helped put it together. Here I am screwing in the piston lift for the lid.
17 July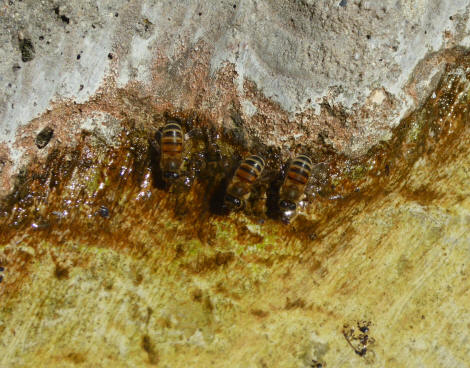 Lots of bees have been streaming down to my birdbath for drinks. They have been doing this for a couple of weeks now and when they fly away you can see a glint as they drop a bit of water on the way back to their nest.
19 July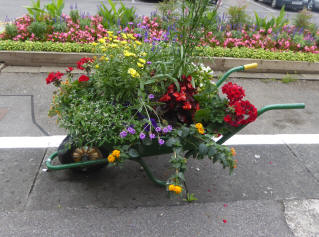 We went to Hampton Court. The station has a row of green wheelbarrows full of plants. The planting is on the part that used to be the old second track.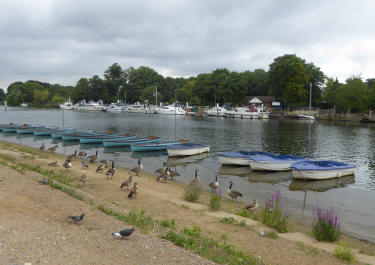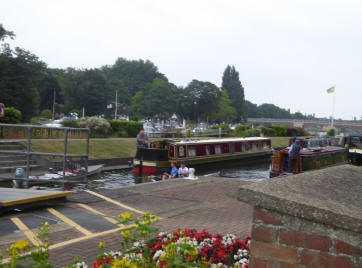 We walked down the river to East Molesey Lock. We saw six boats go in, plus two lads in a canoe.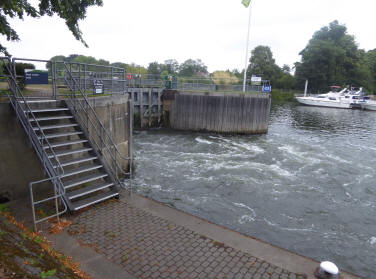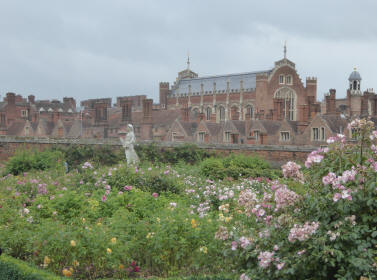 Then we rushed back to the downriver gate to watch the water escaping and see all the boats come out. After that we went into Hampton Court Palace rose garden and had our sandwiches.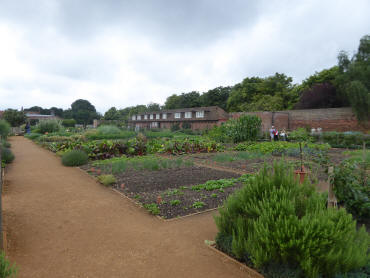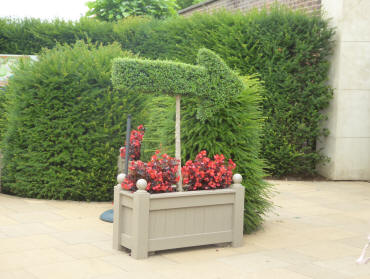 This is the vegetable garden, it is very big. I like this topiary arrow sign leading to the children's area.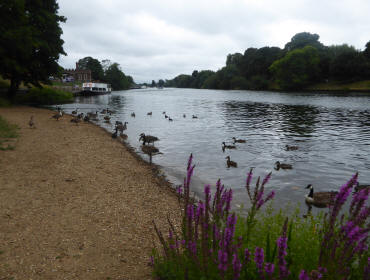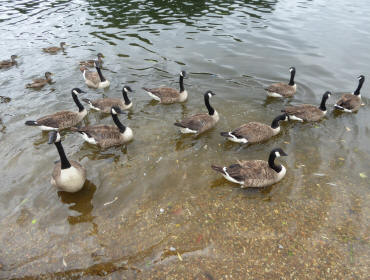 Finally we walked along the river. These geese are getting bread from a lady who is feeding them, and in the second picture they are following her as she walks along.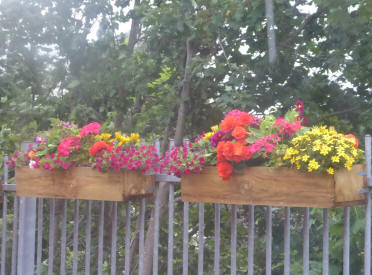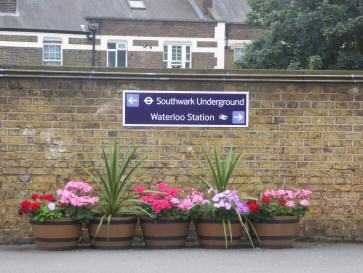 Thames Ditton station is also making a flowery effort, and Waterloo Station back in London has made a good show as well.
21 July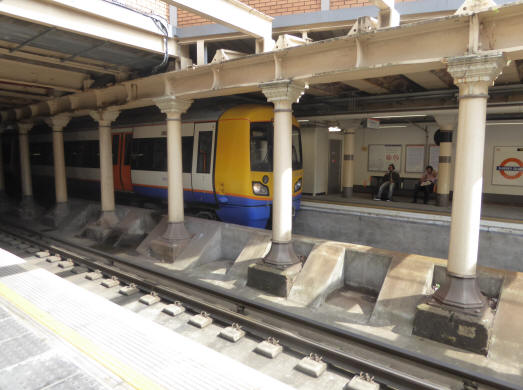 This is South Quays Station. The old iron pillars are holding up the roadway that goes overhead.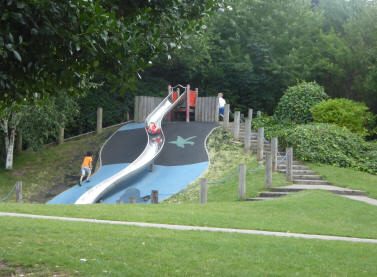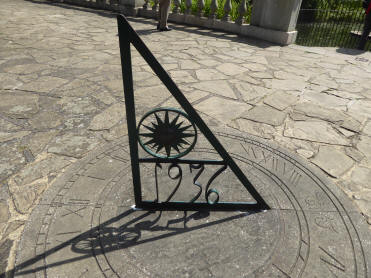 We went through Southwark Park. This slide looks wonderful. By the lake we found this sundial.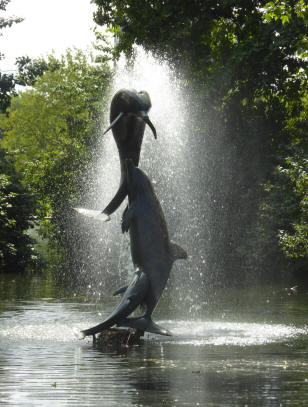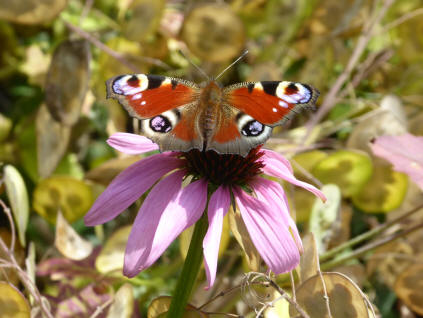 I am glad to say the dolphin fountain was working this time. I got a really good photo of the Peacock butterfly on a rudbeckia flower.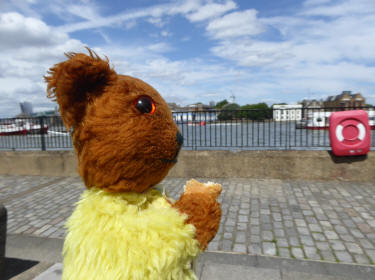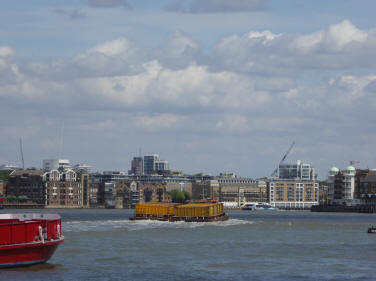 At the riverside we found a bench from which to watch the river and have our lunch. This barge is transporting lots of containers of rubbish downriver to the incineration plant.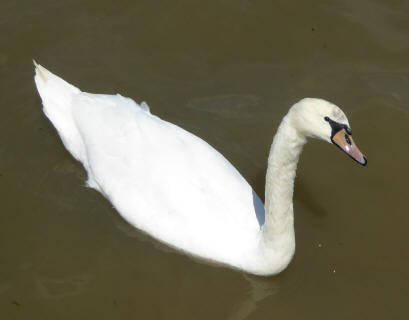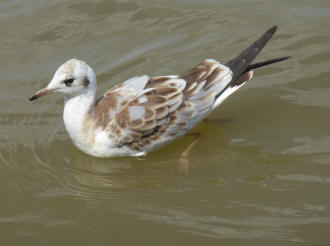 This swan came gliding past. I let him have my spare scone, which he ate up quickly. Then the gulls came down, but they did not get much, maybe two or three crumbs that were floating along. Next time we will bring some cheap bread for more entertainment!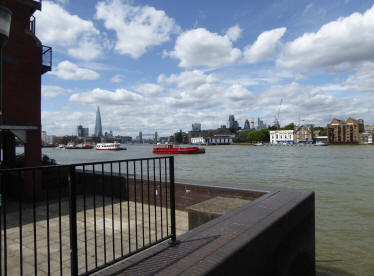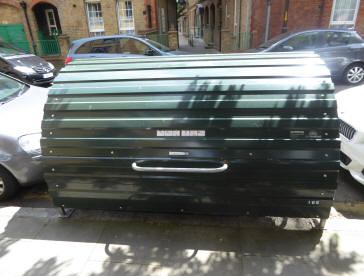 We followed the riverside paths. This is a brilliant idea, a Cycle Hangar that only the bike owners have a key to.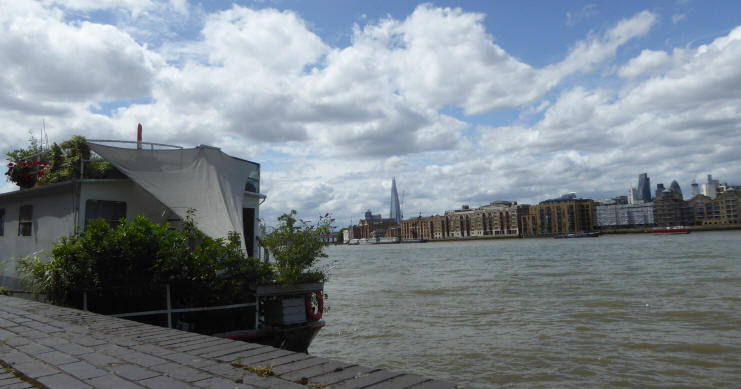 This long boat must be someone's home as it was covered in pots of shrubs. There was even an apple tree with apples growing.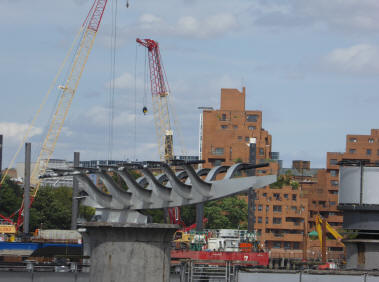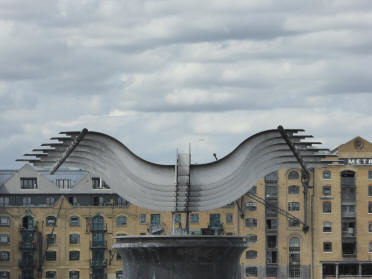 We did not know what this strange metal sculpture was until we got exactly level with it. It is a cormorant drying its wings.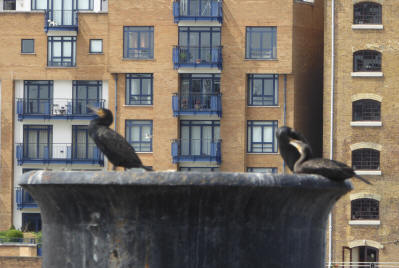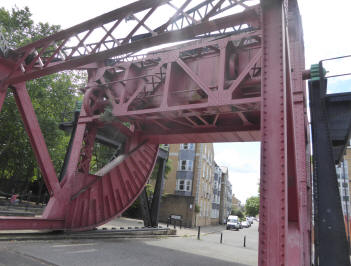 And here are the cormorants themselves. We finally ended up at the old Surrey Docks and this is the old bridge that lifted by rolling back on the curves. It is no longer working.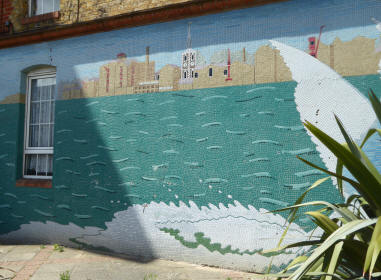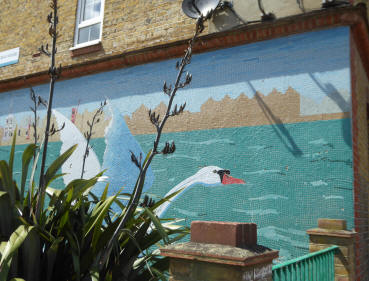 On the walk back to the station we saw this mosaic mural of a swan taking off and leaving a trail of foamy water behind it. I wish they would remove the plant for us photographers!
24 July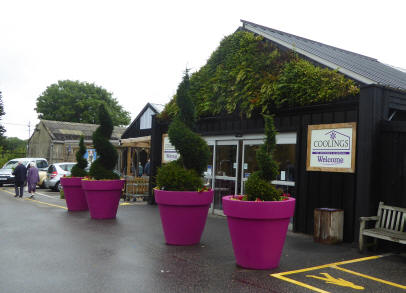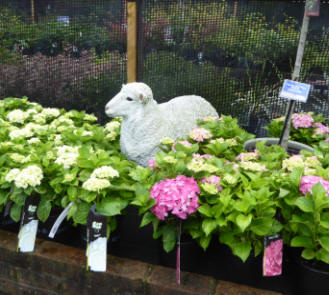 We went to see a flower exhibition at the garden centre. I like these giant pots. This sheep ornament has been put just where it can eat the plants for lunch!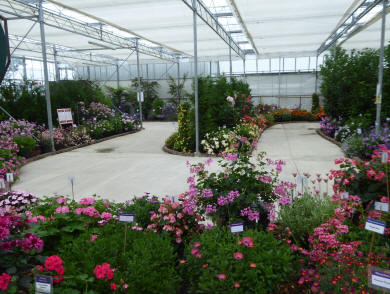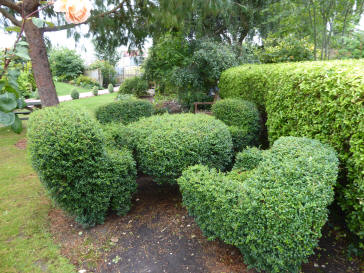 Hundreds of pots of flowers laid out in a winding path in one of the glasshouses. Outside in the garden area is this topiary table with four chairs round it.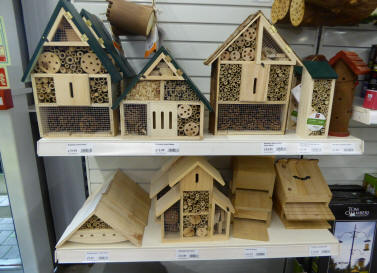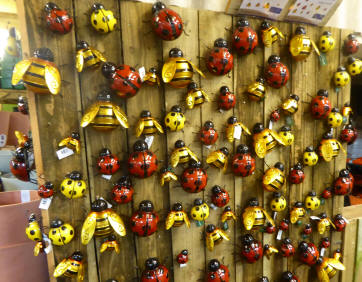 These bug hotels are quite popular nowadays, and here are some of the bugs that might like it, bees and ladybirds.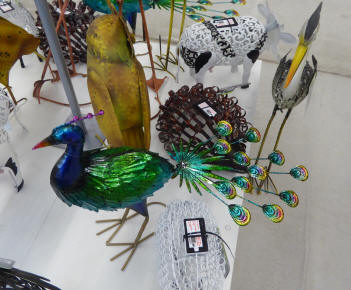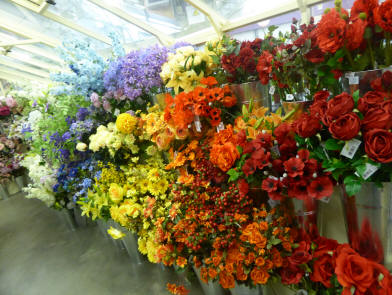 This was my favourite item, an beautiful metallic peacock. The most colourful part of the shop was this display of silk flowers for indoors.
31 July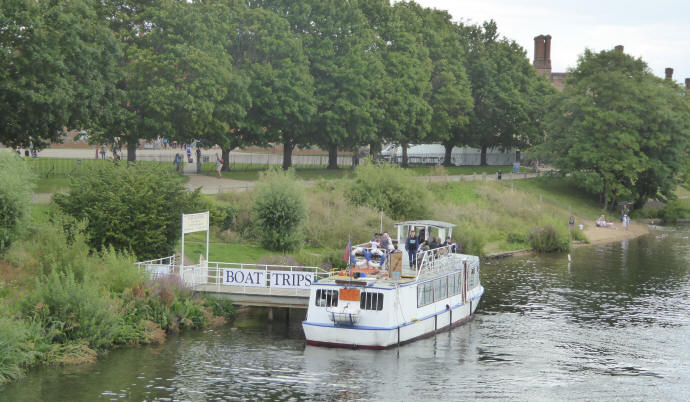 We went to Hampton Court and decided to walk the river path up to Kingston. This ferry goes there, quicker but less to see.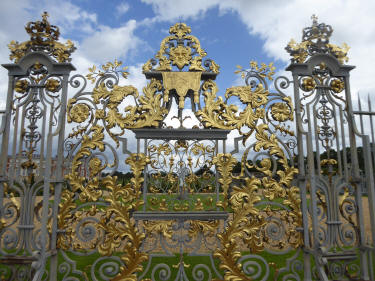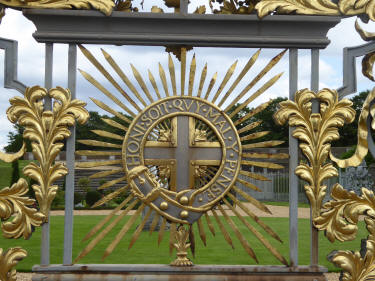 Firstly we went past the back gardens of Hampton Court Palace. The gates are shining golden, but it is gold paint, not gold leaf!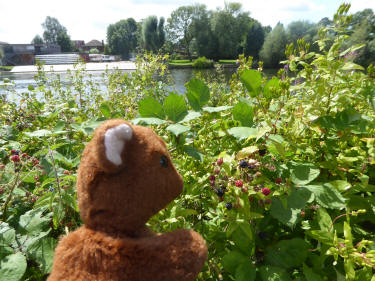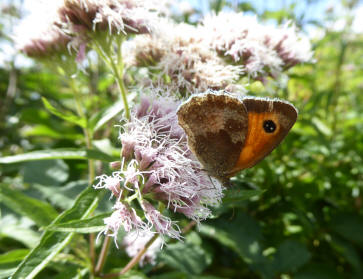 Brown Teddy said all these blackberries and the butterflies are better than gold.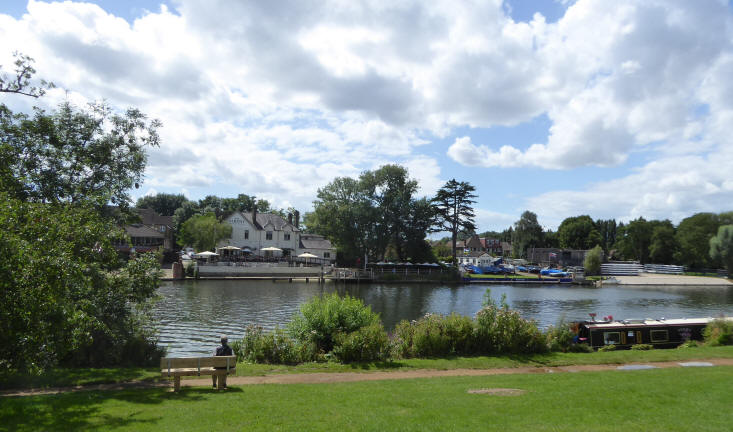 There is lots to see on the river. On the other side are houses and gardens.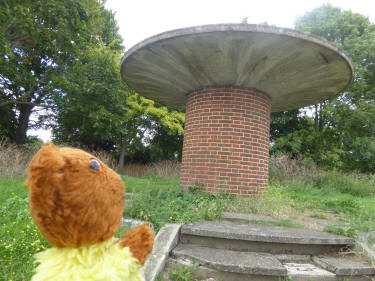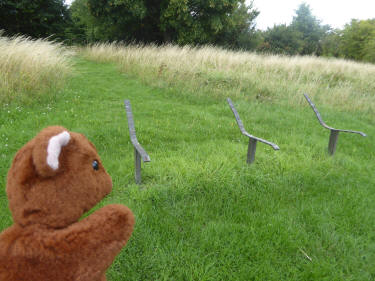 This is a shaft leading to a gas main pipe that goes under the river. These metal pieces next to it look like part of a missing wooden seat.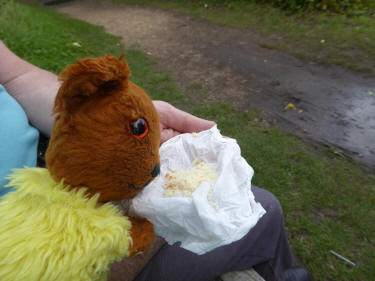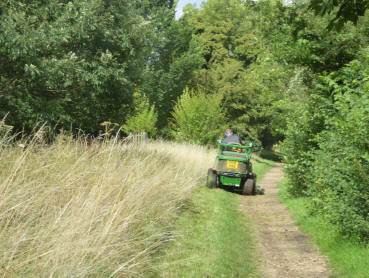 We had our sandwiches. This madeira cake fell into crumbs and was very messy to eat. This man came past mowing the verge but later on we found it had gone over a bottle and so there was smashed glass on the grass. People should not drop glass bottles here!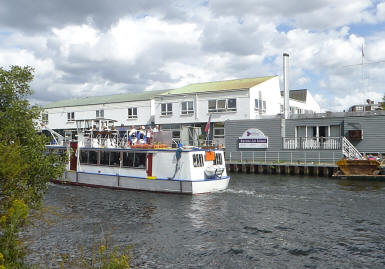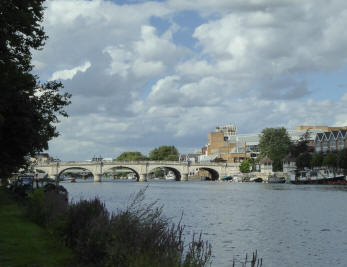 This is Ravens Ait, an island in the river. Finally we saw the white bridge at Kingston. Our legs were just getting a bit tired by now and it was a lot warmer.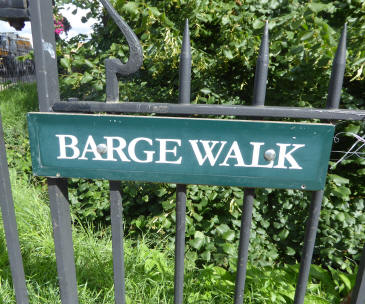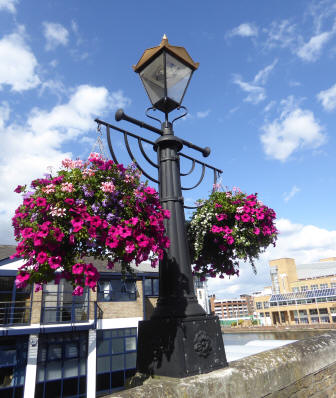 The whole path is called Barge Walk. These hanging baskets of petunias are on Kingston Bridge.