Losst And Found Teddies
https://www.facebook.com/LostboxTeddyBears
Where to report lost or found Teddies, a very important place indeed, so that Teddies can get back to their families who love them.
Discovering Fossils
www.discoveringfossils.co.uk/beachy_head_fossils.htm
This is Dino's favourite site at the moment and he is spending lots of time looking at all the photos of fossils, ammonites, shells, leaves, shark teeth, and other shapes that are not so easy to recognise. We went to Beachy Head in Sussex, UK, not long ago, and Dino was wondering how many fossils there were under our feet in the chalk cliffs. The site also has some brilliant desktop wallpapers of fossils and beaches, with names of the locations so that you can actually go there one day.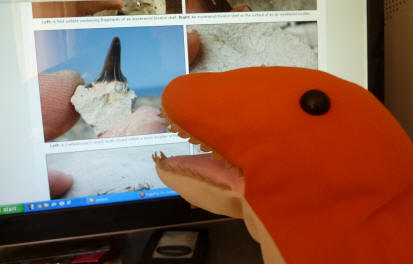 The shark's tooth is top favourite
===========================================================
Reptile Events www.reptile-events.co.uk or https://sites.google.com/site/rudgereptileevents
Lucas, Emma and Jane care for unwanted snakes and lizards, and go on tours of clubs, schools and other events, so that everyone can see and hold them, and learn about how to care for them. We have line drawings of some of them on Dino's Reptile page, which you can download and colour in.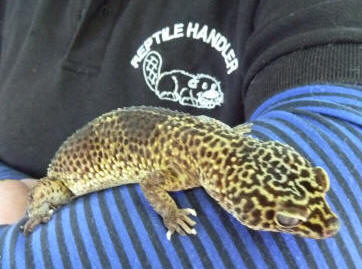 Jane with Nutty the Leopard Gecko visiting Petts Wood May Fayre
The Donkey Sanctuary
www.thedonkeysanctuary.org.uk This is located in Sidmouth, Devon, UK, and gives a home to unwanted donkeys, and helps other donkeys around the world. There is a live webcam in their barn, and two outside the barn, so you can see the donkeys walking around and eating hay. I am very glad they have a warm barn and lots of friends - donkey friends to talk to, and people friends to look after them. I am saving some of my 50p pieces and eventually the savings will buy a bag of fibre nuts, which is dinners for a whole week for one donkey. Brown Teddy and I prefer something more appetising, like wholemeal buns or mango smoothies.
They have lots of YouTube videos: www.youtube.com/user/DonkeySanctuary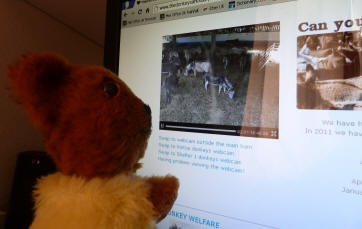 Live webcam viewing of happy donkeys!
The Brooke
www.thebrooke.org is helping lots of working animals around the world, such as horses, donkeys and mules, providing vet services and teaching the owners on how to look after their animals, in order to improve conditions.
The Donkey Care Forever Home www.donkeycarehome.co.uk These donkeys look very happy on their website at their home in Colchester and well fed. We saw one of them when they visited our high street to raise funds. I am glad I was passing by on that day otherwise I would not have known about them. We especially like to remember donkeys at Christmas because of the Christmas story donkey who had a very special job to do, carrying Mary along the rocky road.
===========================================================
Here is where I was first given some of my own pages, before I got my own website. It is full of free photos for artists to use in their paintings and drawings. I like to use some of the sky photos, and then draw my own things along the bottom, like trees and rivers, or houses and gardens. On a cold day I put some of the blue skies or flowers up on my computer screen to make me feel better!
http://lucypaintbox.weathercharts.org
===========================================================
Shorthand
You can find out everything about shorthand for free and practise to get really fast. There are lots of pages for learning and reading, and I have my own shorthand page there as well:

www.long-live-pitmans-shorthand.org.uk/Yellow-Teddy.htm
There is also a blog written in shorthand for extra reading. I know all about this because it's my job to sort out the best photos to go with the articles: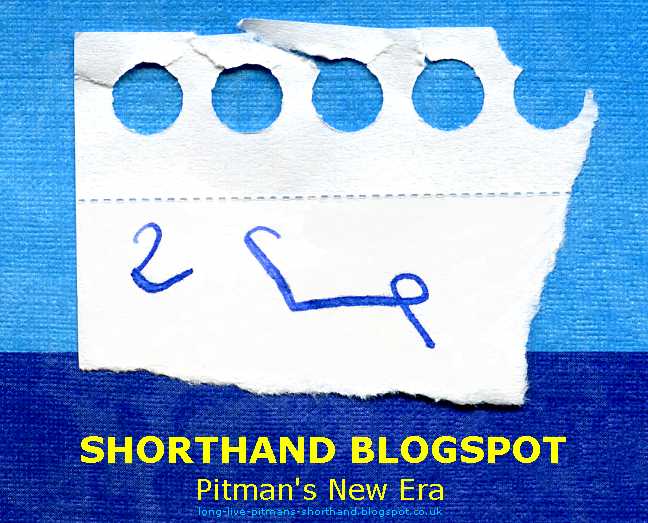 http://long-live-pitmans-shorthand.blogspot.co.uk
===========================================================