I always look forward to Christmas and all the colourful lights and decorations. I have some things here to help you make pictures and Christmas cards.
https://youtu.be/4XWgeA6naW0 shows the contents.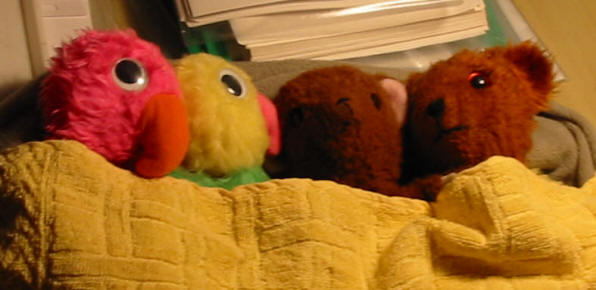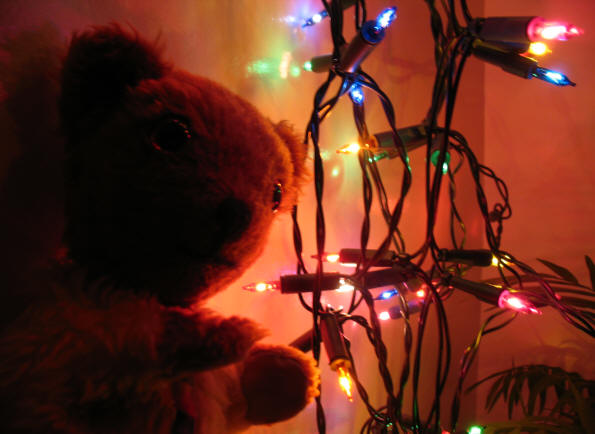 Here is a picture of me and Brown Teddy, Yellow Parrot and Pink Parrot, trying to get to sleep on Christmas Eve a few years ago. The parrots kept talking so I told them to close their eyes, imagine a starry Christmas sky and count the stars. They got tired at about 45 stars and it was not long before they were fast asleep. Brown Teddy likes to be in the middle because it is cosier.
When we put on all the Christmas lights in the evening, we do not need any other lamps. The best bit is the coloured circles that they make on the wall. After a busy day, I like to just sit and look at them for a rest. They normally stay up in January to brighten the grey days. If it snows, which is not very often, we open the curtains and let the colours go onto the snow outside the window.
CHRISTMAS STORY FOLDED BOOKLETS
Yellow-Teddy-Christmas-Story-Folded-Colouring-Booklets.pdf (2.2 MB, 7 pages)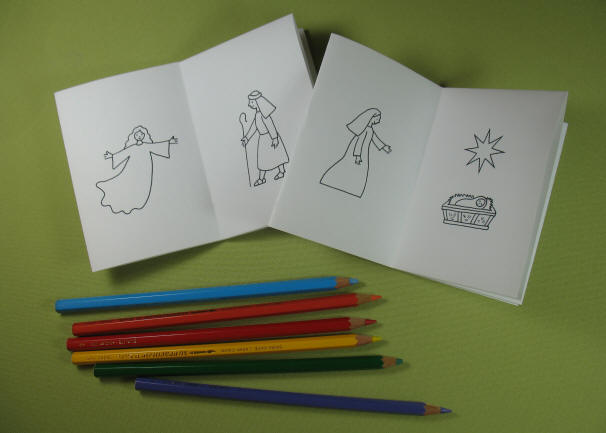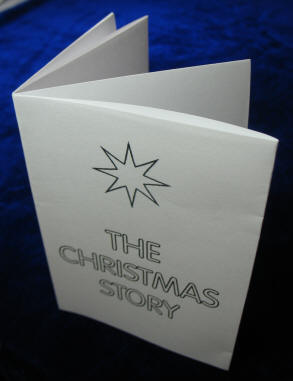 Each booklet is made from an A4 sheet, one for Family & Wise Men, and one for Angels Appearing To Shepherds. You can print the colour pages, or print the black/white pages for colouring in. We have a Youtube demonstration of folding this type of booklet, which was made for our Pitman's Shorthand website:
http://www.youtube.com/watch?v=41q_kbO3fSM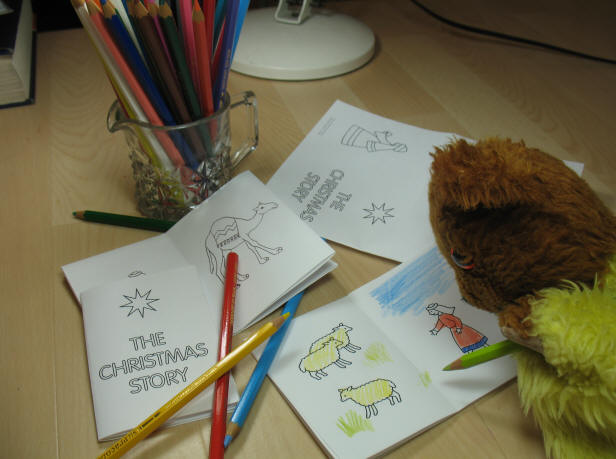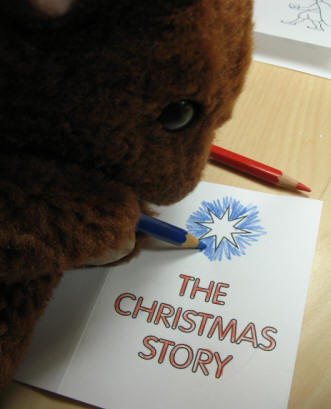 These folded booklets are just the right size for me. Here I am just giving the sheep some extra grass. I don't like a picture where there is no food for the animals. I am not sure whether the camel wants grass or brown hay. The shepherd should probably be in dull brown, but I am giving him a red costume to cheer him up when he is out in the fields with his sheep. I am going to colour his feet in dark blue so that it looks like warm winter socks underneath his sandals! Brown Teddy has made a good job of making the star stand out by scribbling lines round it. I think it would interesting to write the story in words underneath each picture, and then you can send the booklet to someone inside their Christmas card. Or you could send some uncoloured booklets with a small pack of coloured pencils as a present for a friend.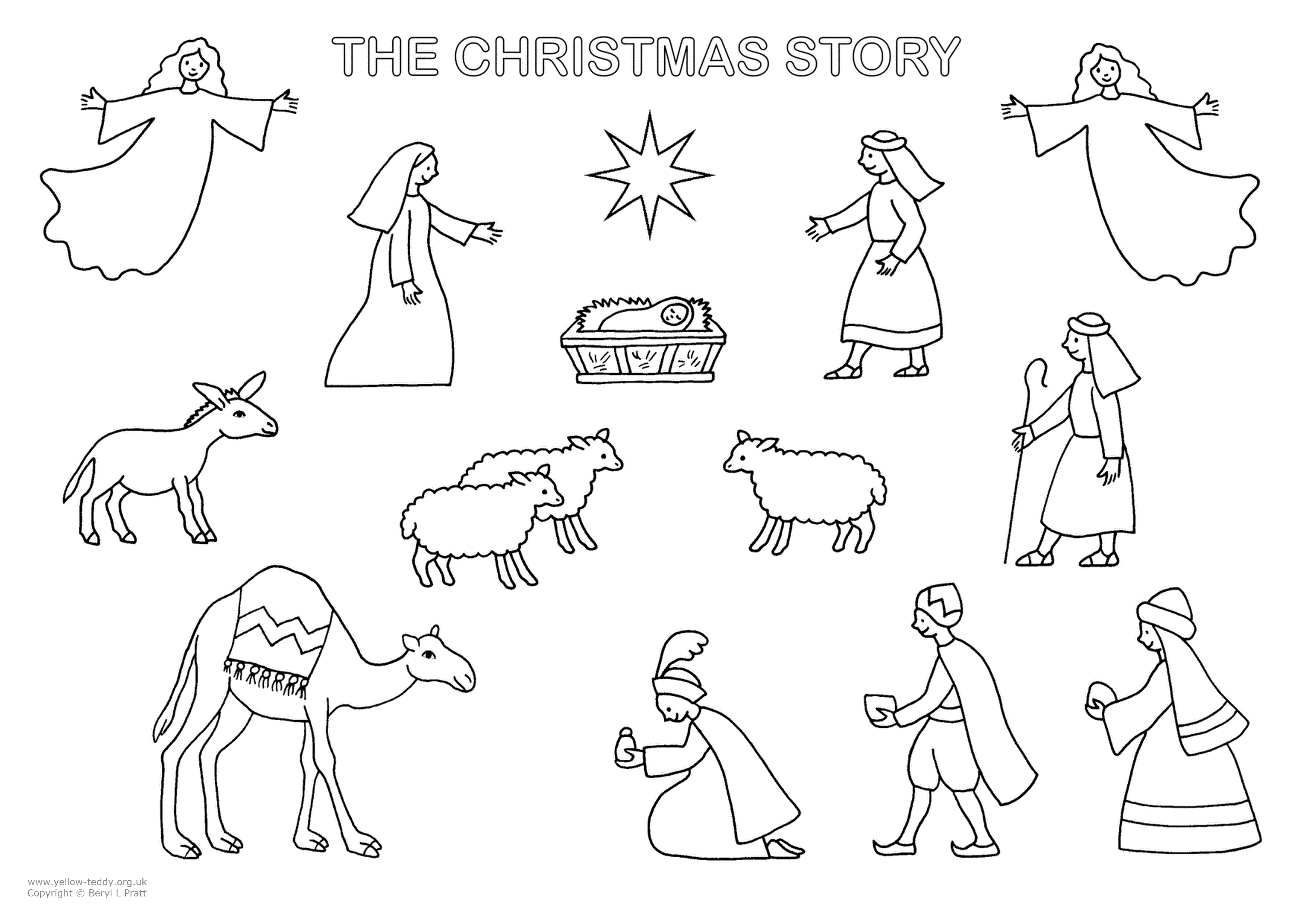 This GIF is one of the PDF pages. If you save it from here, you can colour it in on screen and make some personalised artwork to send via email.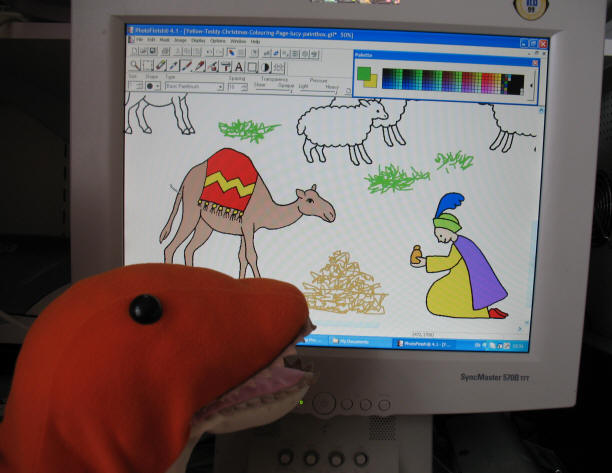 Dino has coloured it in on screen so he can email it to Mr Webmaster, as a thank you for making the website for us. Dino will stay much cleaner that way, than with paints and water. He has put in a huge pile of hay for the camel, and grass for the donkey and sheep, so they don't get hungry – it was the first thing he thought of!
MAKE YOUR OWN CHRISTMAS CARDS
Yellow-Teddy-Colouring-Christmas-Pictures-Cards.pdf (8.5 MB, 41 pages)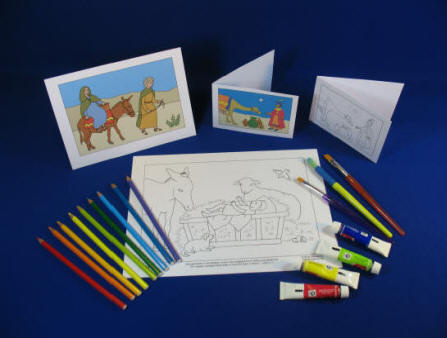 Illustrates the Christmas Story:
This set goes through the Christmas Story in 10 different cards in two sizes (A5 and A6), and the same pictures as colouring pages. You can print in colour or black/white. There is also a colouring world map and historical background. You can stick craft stuff on, like glitter, sequins and ribbon. Everyone likes a special hand-made card and they will not want to throw it away afterwards. Make sure you have the right size envelopes for the cards before you start on your art work.
COLOUR AND CUT-OUT NATIVITY
Yellow-Teddy-Nativity-Colour-And-Cut-Out.pdf (12 MB, 42 pages)
Yellow-Teddy-Nativity-Colour-And-Cut-Out-One-Page.pdf (1.2 MB, 4 pages)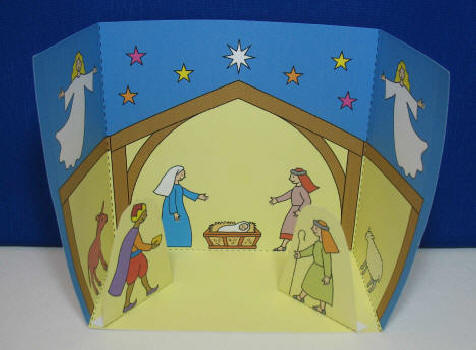 This nativity set has a stable and lots of stand-up characters - kings, shepherds, animals, angels and palm trees, and it is also in colour, and black and white.
There is a one-page and a full version, and also a zigzag folding version which needs no sticking at all. It also has a colouring world map and historical background. The stable can be folded down and put inside a Christmas card as a present.
The One-Page version is repeated in its own smaller PDF.
The characters can also be used for lots of other things, such as hanging decorations, gift tags, bookmark tops. You could make a collage or miniature mural. The stand-up characters can be moved about to make an animation of slideshow, using different backgrounds, to tell the whole Christmas story, and it would be fun to record your own script of their voices, so that the characters are like real actors.
A SHINING CHRISTMAS STAR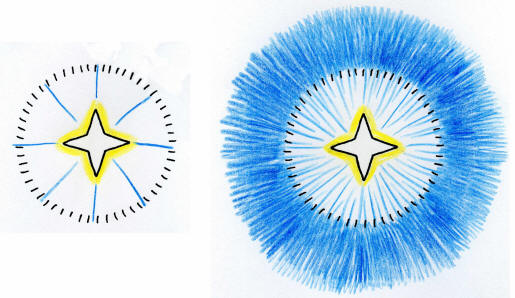 This is how you make a star shine. You draw a dotted circle around the star. Then you put in the main guidelines for the rays. Then you draw all the dark blue lines with a coloured pencil or crayon. The white spaces that you leave look like rays of starlight. The yellow round the outside of the star makes the middle look brighter. If you make 2 and then stick them back to back, you can hang them on the Christmas tree. If you stick them to some card, they make good gift tags.
CHRISTMAS KNITTING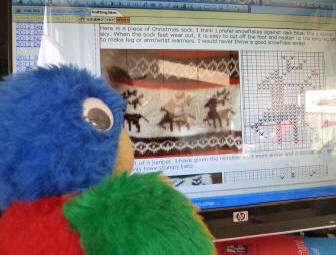 Here is Blue Parrot checking my new Knitting page, and I have begun it with some charts for Christmas Snowflakes and Reindeer. If you don't knit, you could make Christmas cards instead, by copying the chart onto squared paper, using your own colours. Knitting charts have flatter rectangles, as knit stitches are not square, so if you use squared paper, the design will look taller. It could be a picture of a Christmas Stocking or someone wearing a jumper or hat. If you kept to solid squares instead of the V stitch shapes, it might look a bit like a mosaic.
CHRISTMAS PHOTOS
I like to make my own cards, so that the person knows I have taken some time to do it nicely for them. After Christmas, I save the fronts of the cards with the best snow scenes and robins, and have them on the wall instead of the Christmas cards, so the wall does not look so bare in January. These pictures below can be used to make cards or gift tags. They are very small thumbnail pictures. You have to click on them to get the bigger version.
Decorations
We have had these tree angels for a long time. The candle is a pretending one with a bulb in it.
These artificial trees are covered in spray foam snow.
The model snow villages in the garden centre are always very interesting as they are different every year.
These are my robin decorations.
Lights
Everyone stays up a bit later when the Christmas lights are on. These glass bulbs are quite old, and we had them before the LED lights began to be made. They have much softer colours but the bulbs fail after a while as they are so delicate.
These are Christmas lights when the camera was moved up and down very quickly.
Berries
Evergreens have always been brought into the house in midwinter, people thought they were special because they stayed alive. I am sure the cut branches lasted longer a long time ago when houses were colder and more draughty, with no central heating.
The last picture is poinsettia - not berries, but redder than all the berries.
Snow
I think people want snow at Christmas because it makes everything stop and go quiet, and it is a good excuse to have another mince pie on a cold night. These pictures were taken in my local parks. We don't have thick snow very often in Southern England.
Food
I like the star-shaped mince pies better than ordinary ones. The bowls of chocolates do not last long in my house, so we have to only put a few out at a time.
Robins
If you have a robin in the garden, he will be watching everything you do, and come down to look for snacks when you are out of the way. You can get a good photo if you move very slowly towards the robin with the camera, and especially if you don't look straight at him.

In Victorian times, postmen wore red coats and were called Red Robins. Christmas cards at that time showed little robins delivering the mail, and now we still have robins all over our cards.
Reindeer
These reindeer are in my local garden centre every December. They are used to people and spend their time eating the hay and sleeping. The last picture is a large toy reindeer at the garden centre.
Winter Flowers
The first two are Christmas Rose (Hellebore), then Winter Jasmine and Snowdrops. Aunties and uncles are well-known for sending cards with pocket money inside, so it would be very polite to send them back a colourful winter flowery thank you card, with very neat handwriting. They will probably keep it forever.