3 December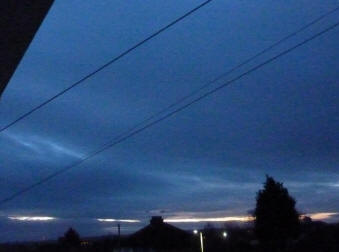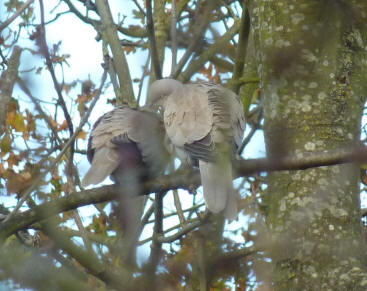 I think I am going to give up getting up for dawn photos, they make me feel too cold! In the afternoon, I saw our regular Collared Dove sitting with a new friend, and they are now both staying here to keep each other company. They don't like being alone, as they like to have someone to help them look around, to stay safe from danger.
5 December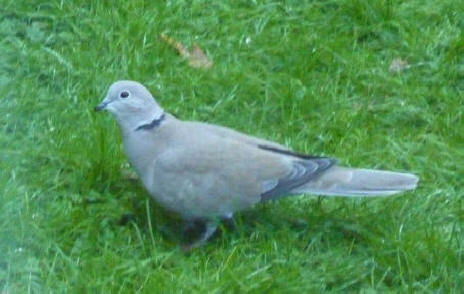 Here is Dove again, having eaten some bread and looking up at the kitchen window, wondering if anyone is watching him.
6 December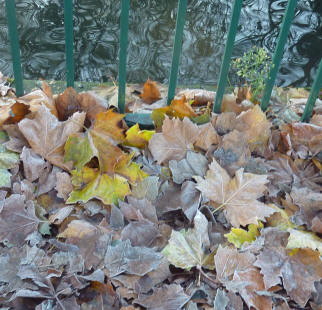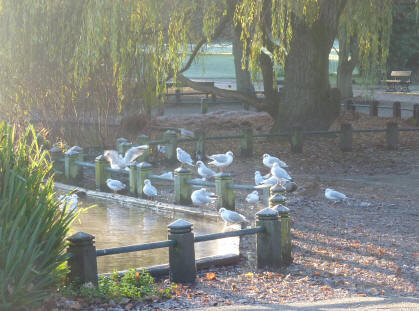 This morning was our first real frost of the year, with frosty swirls on the car windows, and frosted leaves everywhere. The seagulls in the park were sitting around waiting for a free meal.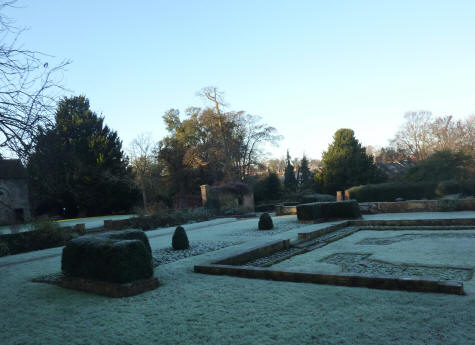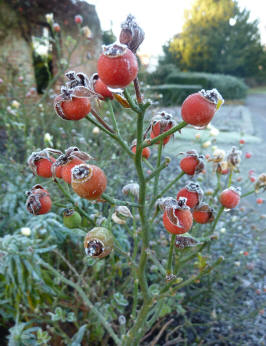 These beds in Priory Park will be full of flowers next year, but all we can do now is admire the neat shapes and hedges. The gardeners are somewhere warmer with their bedding plans and plant lists. The rose hips were the only colourful thing I could find.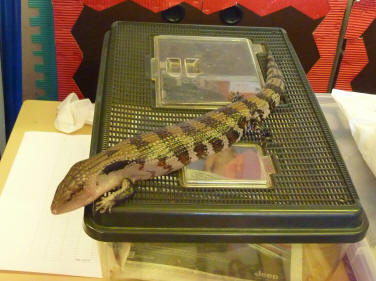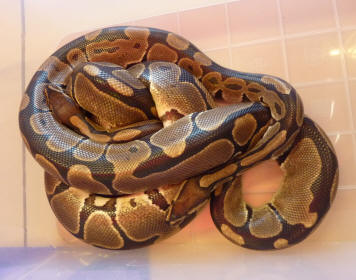 After lunch we went to a Christmas Fair in Crofton Infants School, to meet Cobalt the Blue-Tongued Skink again, so we could get better photos of him. This python is having a rest, and is taking turns with the other snakes to meet the children. There were very big smiles as the children were allowed to hold the reptiles carefully and the parents took photos. Brown Teddy and I think it was the best Christmas Fair we have seen so far, as everyone worked really hard to fill the stalls with piles of gifts, cakes and games. On Dino's Reptiles page there are some colouring pictures of Cobalt and his friends.
11 December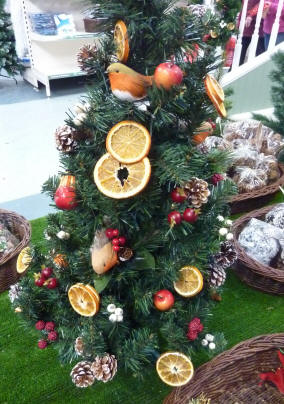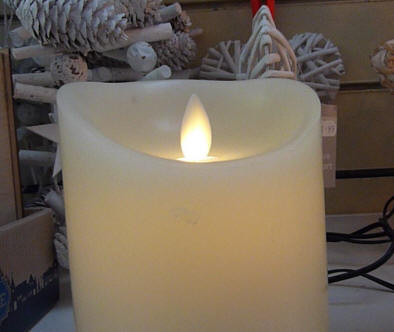 We went to a nearby garden centre to look for Christmas lights. This tree covered in fruits must smell quite delicious in a warm room. This candle has an outside made of wax and a plastic flame that wobbles on a wire over a bulb. From a distance it is impossible to tell it is not a real flame.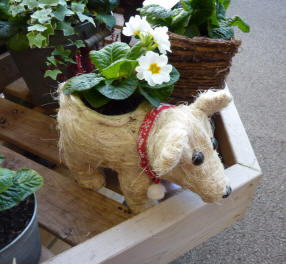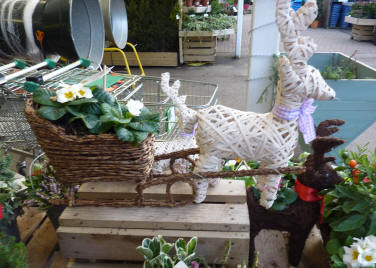 At another garden centre, I thought this was a dog ornament but I think it is really a polar bear. The sleigh and reindeer one looks a bit strange with spring flowers in it!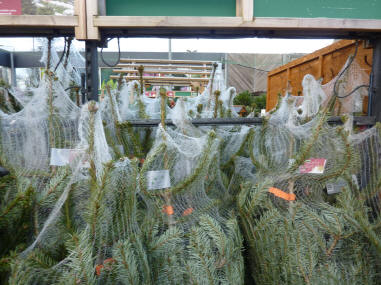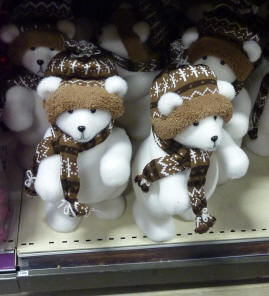 I love seeing the Christmas trees wrapped up, as they all look like spider webs. These little toys are a good place to get some ideas for knitting real hats and scarves.
12 December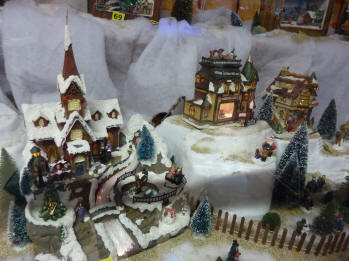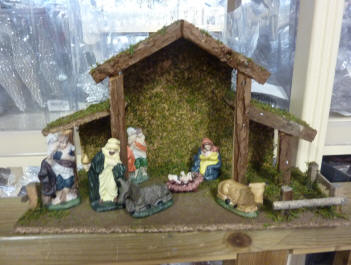 We went to Polhill Garden Centre, and I was pleased to see the model village all covered in snow. I am glad they had a stable scene as well, but there was no snow around it, which is just as well, as it looks a bit draughty.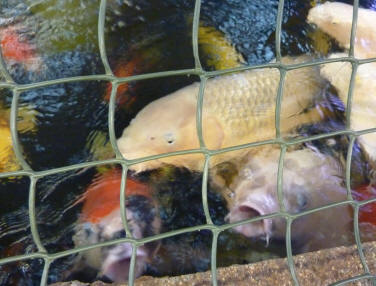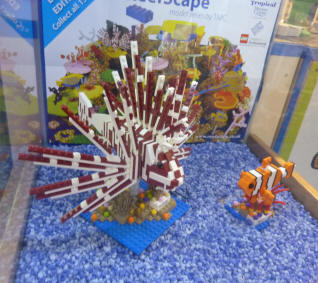 We always go in to see the fish and big koi. The staff have made these wonderful fish out of Lego blocks, and I hope they leave them there all year.
13 December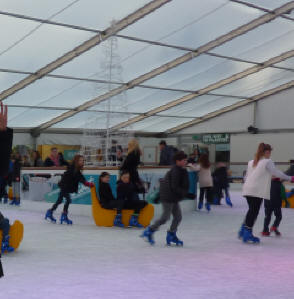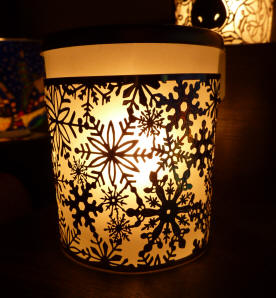 A trip to Ruxley Garden Centre to watch the skating. After a while we got chilly, but these glowing candle glasses really made me feel warm. It was a battery LED tealight inside.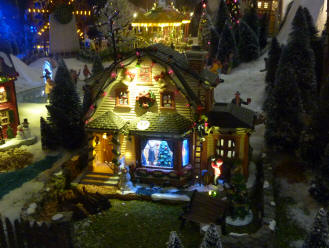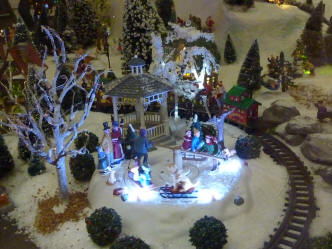 They always have a really big model village at Christmas. We spent ages looking at everything. The snow looked really cold and the houses looked really warm.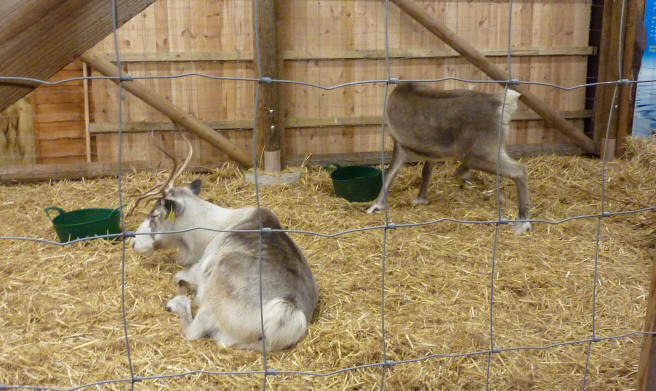 Out the back the live reindeer were sitting around dozing, but finding it a bit difficult with all the people walking past.
14 December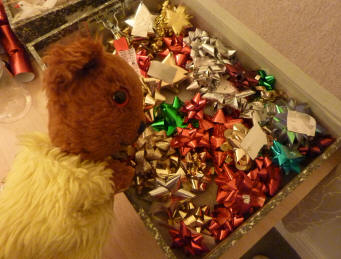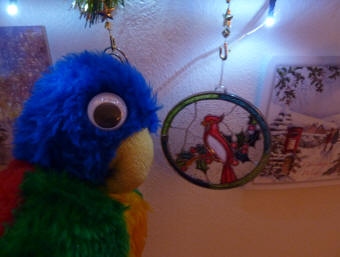 Today I got out all the decorations. Blue Parrot's favourite is this glass one with a bird on it.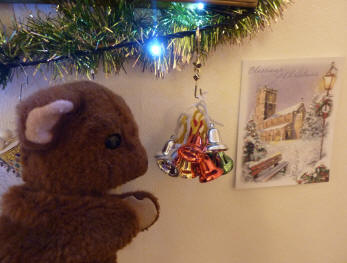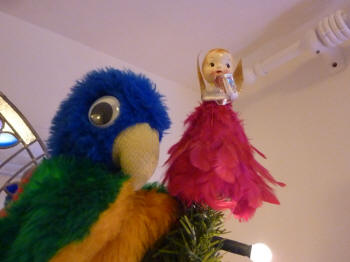 Brown Teddy decided to hang up all the bells in bunches, instead of putting them on the tree. Blue Parrot always has the job of flying up to the top to put the angel on.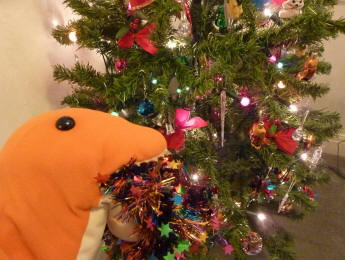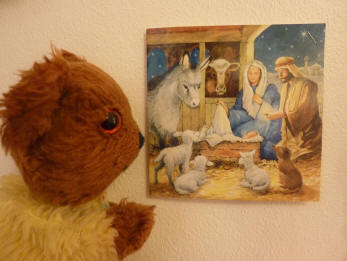 Dino's job is to drape the tinsel around and he can carry a lot of it at one time without dropping any. This is my favourite card, as all the animals are around the manger admiring the Baby.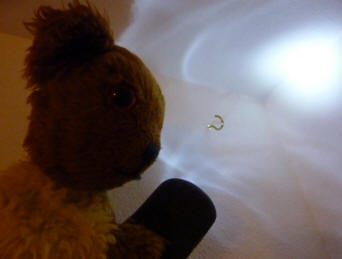 I had lost some of my screw holes when we put new wallpaper up in the summer, and I had to use a torch shining sideways to find the bumps. Finally everything was up, including these lovely Chinese paper lanterns which are quite old.
15 December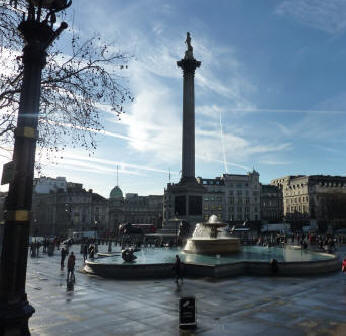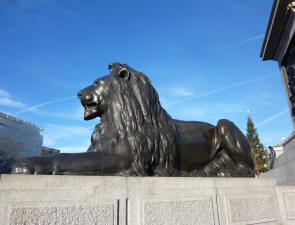 We went up London to see the Christmas lights. This is Trafalgar Square, and one of the lions at the base of Nelson's Column.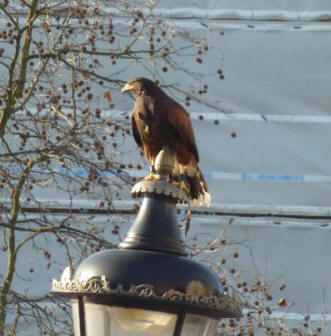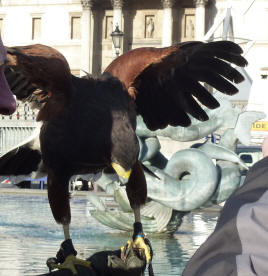 We saw this hawk, and he was flying around and kept going back to his handler. This is to make sure the place stays free of pigeons.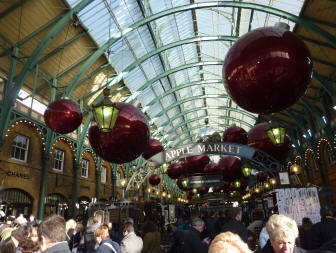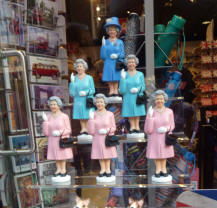 This is the apple market at Covent Garden, with apple type baubles haning up. These little models of Queen Elizabeth all had waving hands. They are very tasteful and I am sure the Queen is pleased with one - I wonder if she has one by her bed?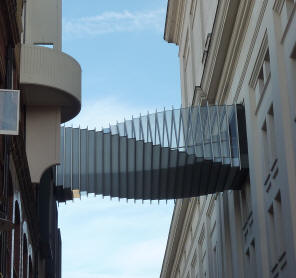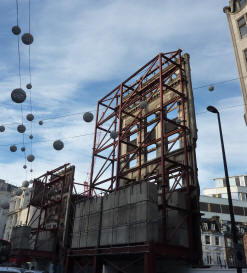 Someone had fun designing this walkway between the buildings. Here the fronts of the old buildings have been kept, and I am sure they are going to build up behind them.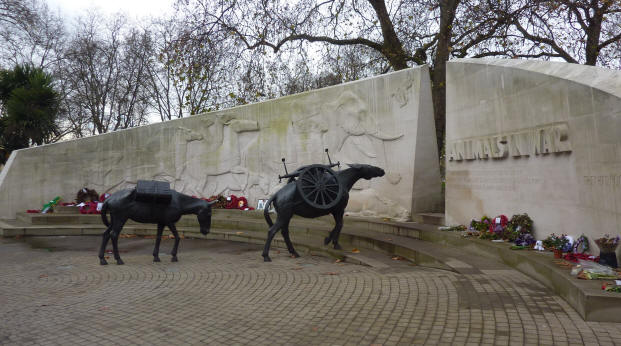 Near Hyde Park we found this monument to Animals in War. On this side the tired donkey and horse are carrying heavy loads. Through the gap there is another horse running free after its difficult life in war.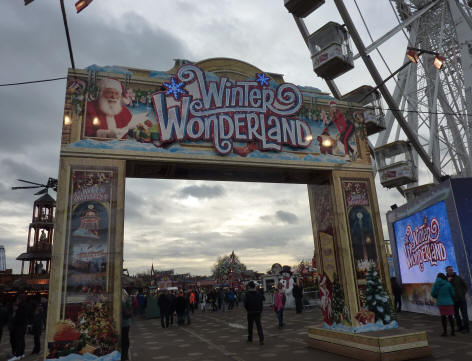 We went to the Winter Wonderland in Hyde Park, a giant funfair.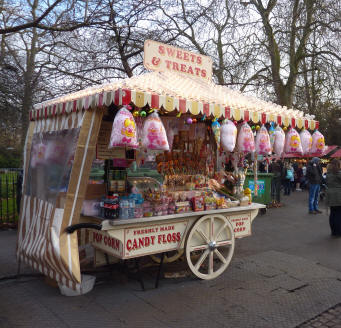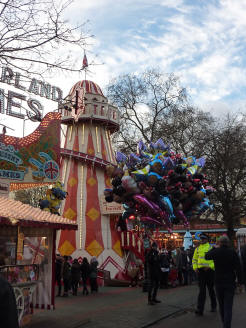 It was packed with amusements and stalls selling food and sweets.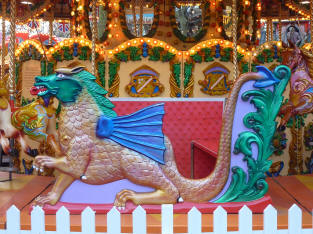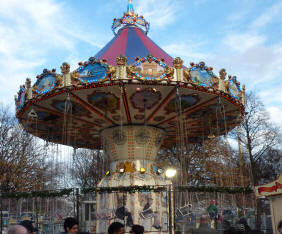 This lovely dragon is on one of the big carousels amongst all the horse. This big amusement used to be called Chair-O-Planes. It rises up and the seats swing out.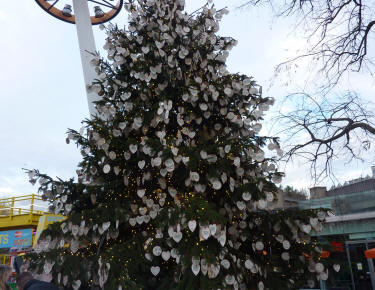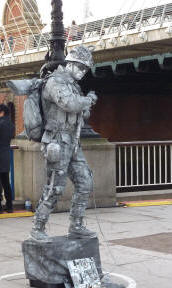 Back by the Thames, this Christmas Tree is covered in little messages to accompany donations. This man is dressed in grey to look like a robot. He makes jerky movements with robot sound effects. Some of the children were not sure if he was real or not, but I saw him smile a bit! He does it really well and shook hands and posed with the children.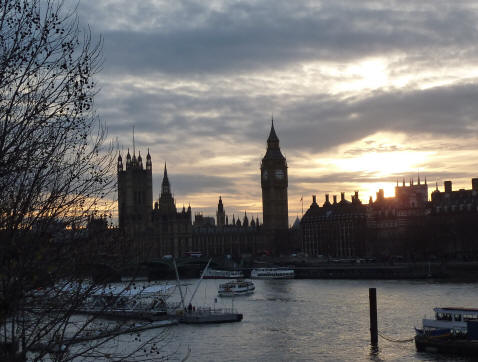 Before we went home, I got a good shot of the Houses of Parliament as the sun went down.
16 December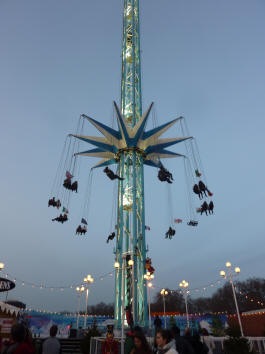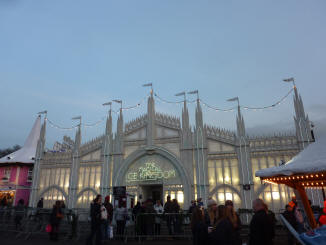 We decided to visit Hyde Park again, this time at night. This ride goes up the tower and the chairs swing round. The Ice Kingdom containing ice carvings looked interesting but it was a bit expensive and very long queues.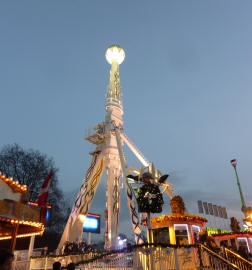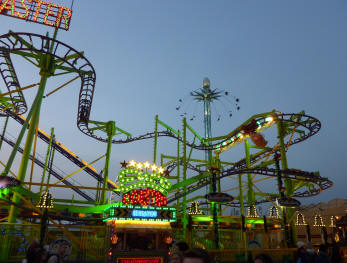 This rides swings the riders round in vertical circles, with lots of flashing lights and loud music. I don't think I would enjoy the roller coaster either but I like to look at them.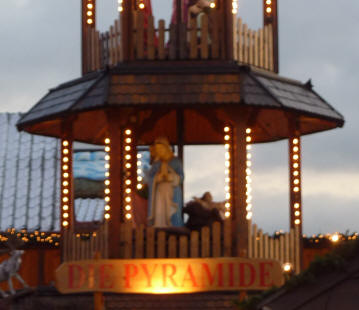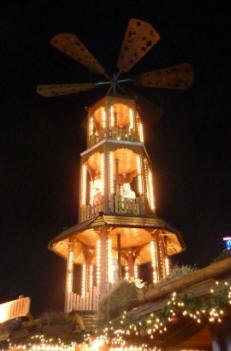 This tower had the Nativity scene going round, with Mary, Joseph and Baby Jesus on the bottom, wise men in the middle and angels at the top.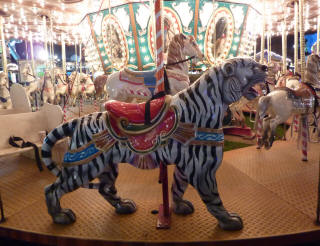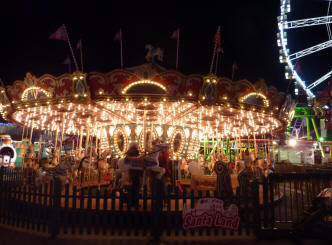 I like this tiger on the big carousel. I think he would like to run around Hyde Park catching the pigeons!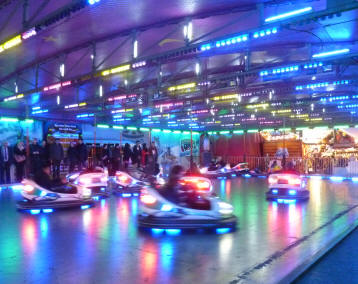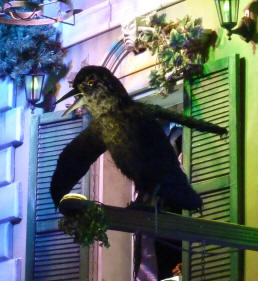 The dodgems were very colourful. This crow was on the scary house but crows are not really scary, they are very friendly and intelligent.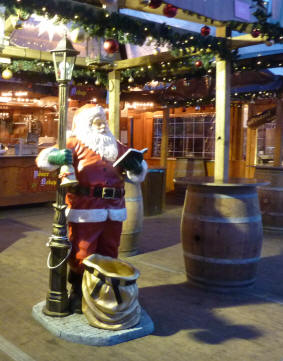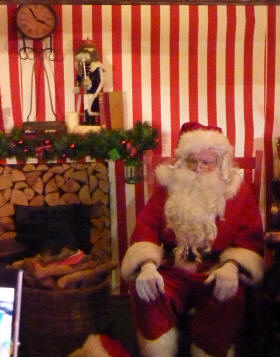 This model of Santa seems to be checking his list. Here is a real Father Christmas, taking visits from children and having lots of photos taken.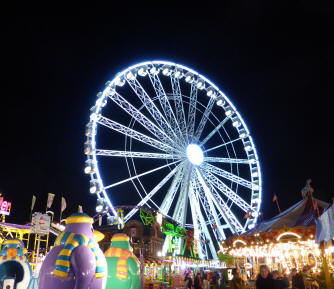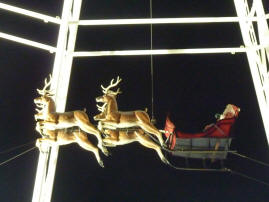 The ferris wheel had a sleigh and reindeer suspended below the middle. I think the sleigh will be going a lot higher on Christmas Night.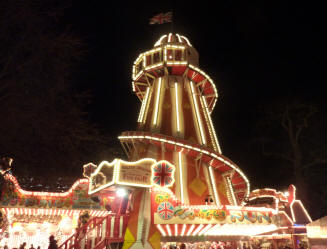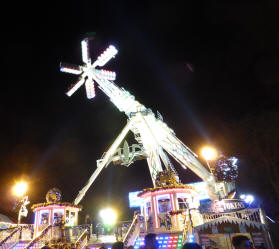 The helter skelter is a very traditional ride and looks much better at night than in the day. The six arms of the star are really seats full of people being swung up and down, and rotating at the same time.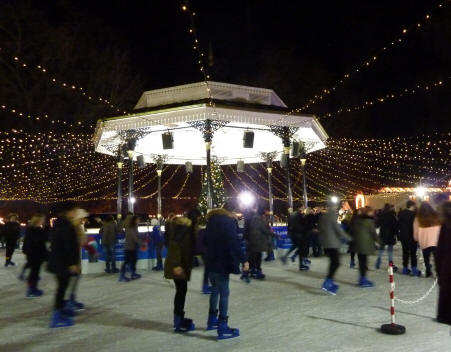 We spent quite a while watching the skating. It is quite a big rink built up round the bandstand, and there was plenty of room for everyone.


Here is the view as we left the funfair and walked back across Hyde Park.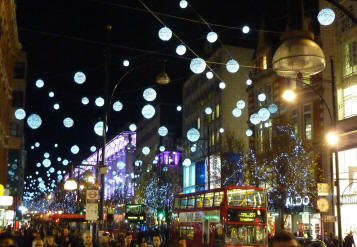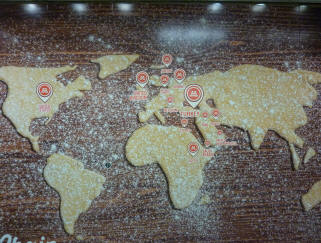 We had a look down Oxford Street to see the white globes hanging across the road. This picture of the world in pastry made me feel hungry for a snack!
17 December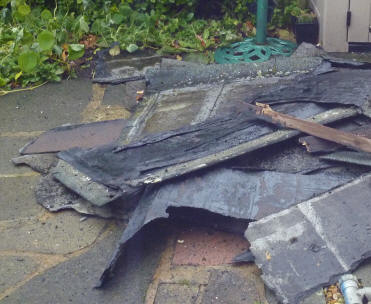 Today we had our kitchen roof replaced, as it has been leaking in the heavy rain. I am very glad it is all going to be new and waterproof at last.
18 December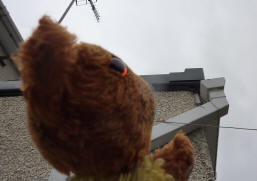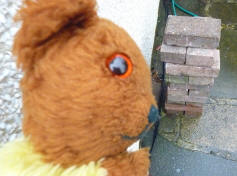 The roof was finished on the second day, with a glass fibre and resin coating. We could smell the fumes for a while, but it will all be worth it when it rains and we don't have to worry about it. All these bricks were holding down the tarpaulins, so they can now go back down the end of the garden.
20 December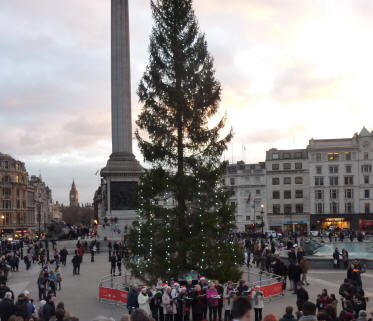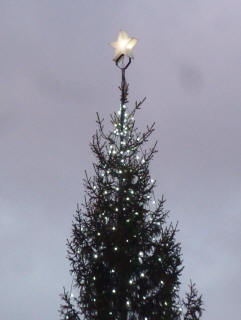 We went up London and visited Trafalgar Square again. There were carol singers around the tree, and an illuminated white star on top.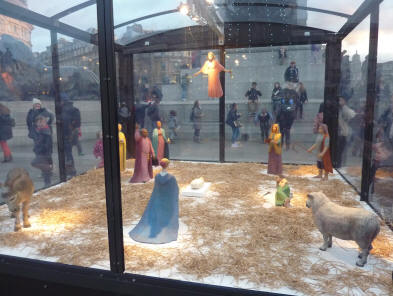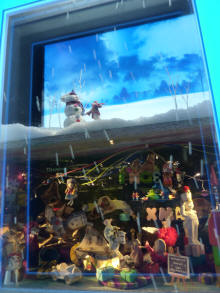 Near to Nelson's Column was this large glass case with a Nativity scene inside. I think it would probably look even better in the dark. I like Christmas shop windows and this is a really good one in Harrods in Knightsbridge, showing a winter scene above and the mice's cosy underground home underneath, full of Christmas goodies. It had polystyrene snow falling across the front, which made the top scene feel really chilly and the underneath cosy and warm.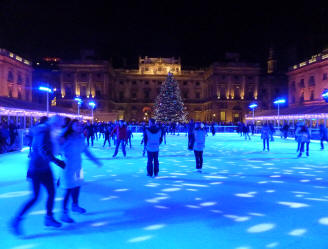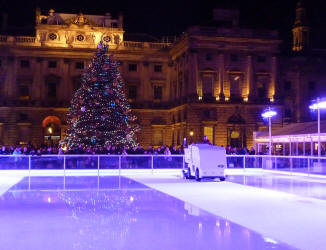 We then went to Somerset House to see the skating. We arrived at the end of a session, and it was very interesting watching the machine being driven round to smooth off the ice with scrapers and water jets.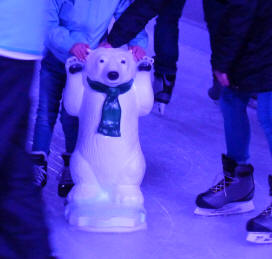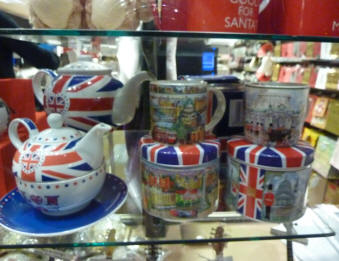 The polar bear was helping a young child stay upright on the ice. It makes a change from penguins! I like these souvenirs of London, maybe I should get some for myself!
22 December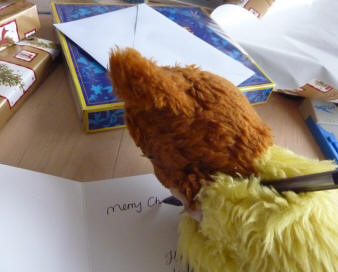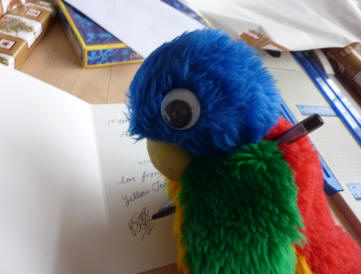 I have just a few cards to write, to go with some presents. Blue Parrot writes very beautifully, all swirly and loopy, it does not say anything, but it means "lots of love" in parrot talk.
23 December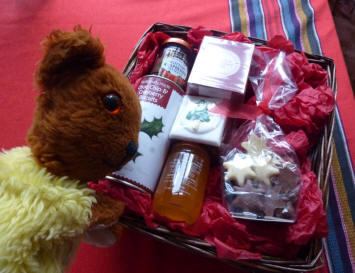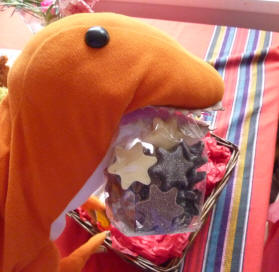 A lovely hamper arrived today with jam, marmalade, biscuits and chocolates. Dino is looking after the star-shaped chocs, to make sure they don't get lost or forgotten.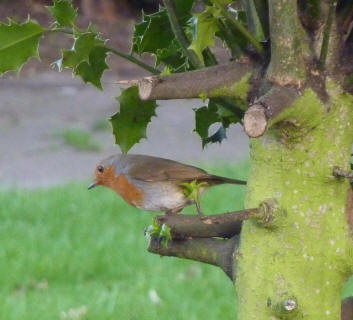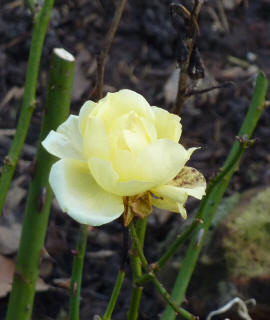 This robin in the park seems to have seen a worm and is about to fly down, but I got my photo just in time. All the roses bushes were pruned right down, but this one rose was still there, I think it must have been a small bud when the gardeners came round and so got missed.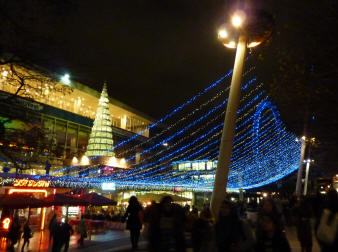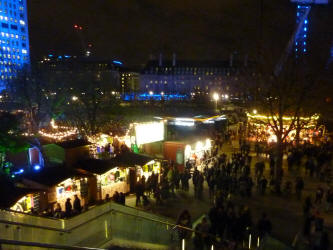 At the end of the afternoon, we went up to the South Bank by the River Thames. There was a big carousel and lots of stalls selling food and souvenirs.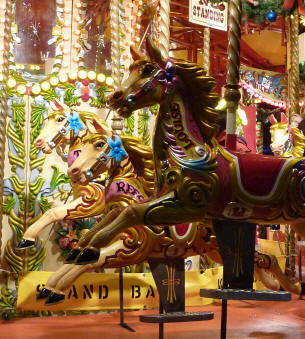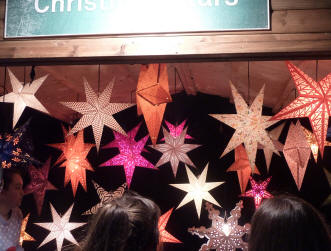 The carousel is a replica of one from 1951. I really like these paper stars and I was wondering how I could make my own at home.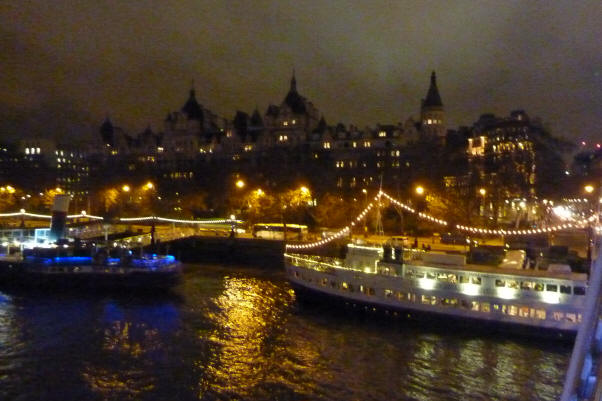 The Thames is really colourful at night. This photo is taken from the bridge that takes the trains coming from Charing Cross Railway Station.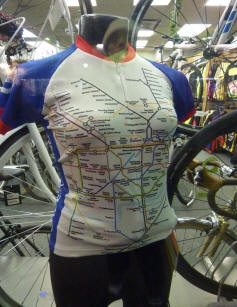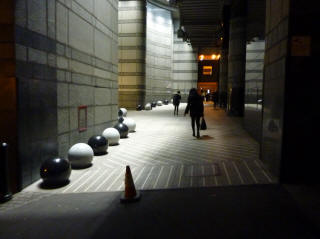 On the way home, we saw this wonderful top with a map of the London Underground, in a cycle shop. Further on, someone seems to have had a good time designing this area with stone balls. I wonder if people end up sitting on them to have a rest between shopping trips and getting their train?
24 December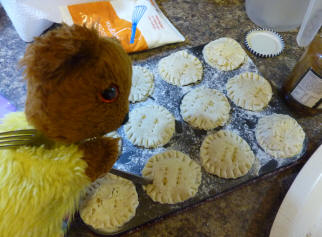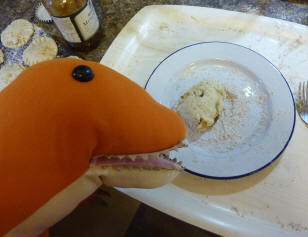 This afternoon we made our mince pies. Dino had the leftover bits and so he made a larger square mince pie with more mincemeat in it. It is a good job I took a photo as he ate it as soon as it was cool enough, covered in peach yogurt.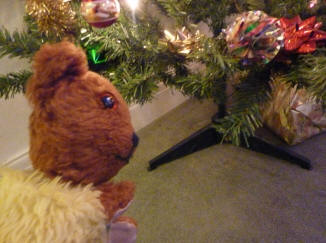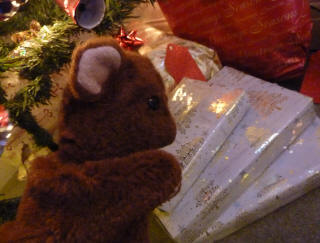 Before bedtime, it is time to put the presents under the tree. There is plenty of room! Brown Teddy likes to put the shiny ones at the front.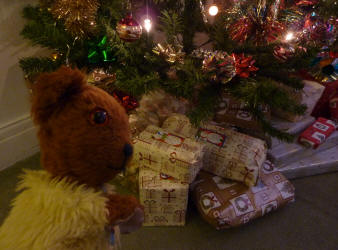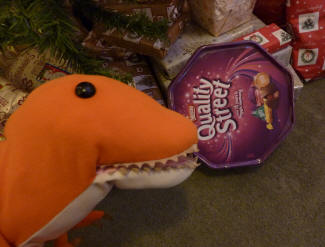 All done now and it's amazing how they all mount up. Dino managed to find two more, with the box of sweets clearly positioned at the front, so he can admire it a while longer.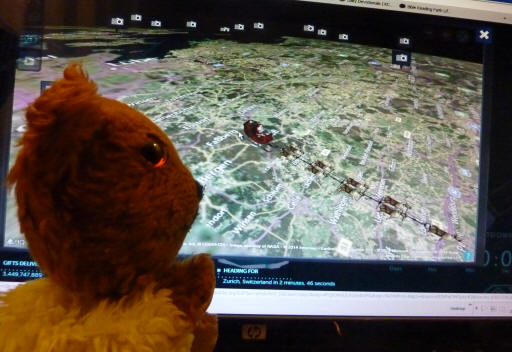 There is just time to check on the NORAD Track Santa website. He was just over Switzerland when I looked, which is not that far from England!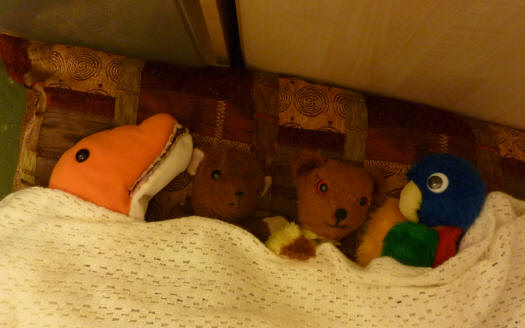 We are in bed before Santa leaves Switzerland, to make sure we get to sleep before he arrives in our country. We will get sleepy once the light is out.
25 December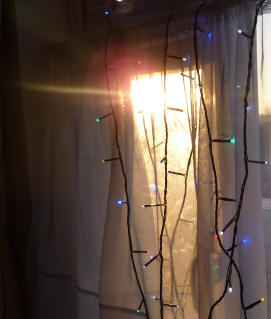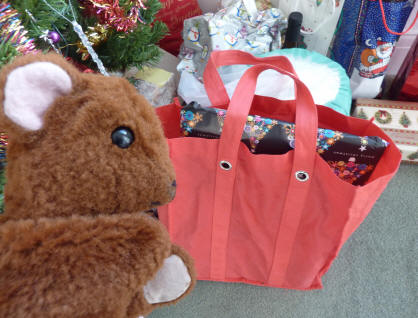 We woke up just as the sun was coming up. It is rather cold outside. Brown Teddy noticed that a new RED bag has appeared under the tree full of presents. I am sure Father Christmas likes to use RED bags!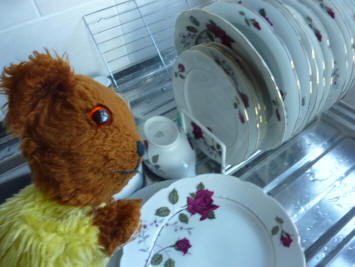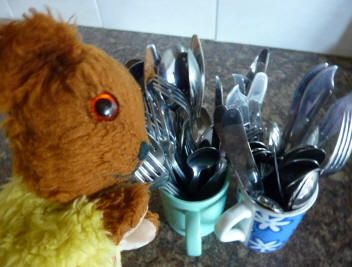 I like to get ready really early, so there is no rush. We washed all the special plates and cutlery, which we only use at Christmas.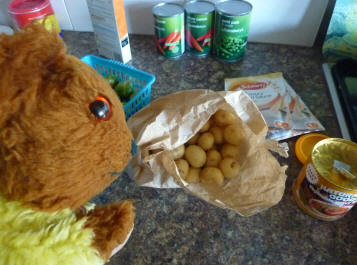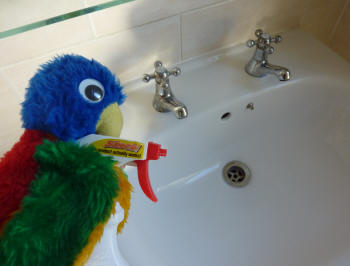 I got out all the items for the Christmas dinner, so nothing gets forgotten. Blue Parrot volunteered to squirt the stuff round the bathroom taps, but I had to do the wiping!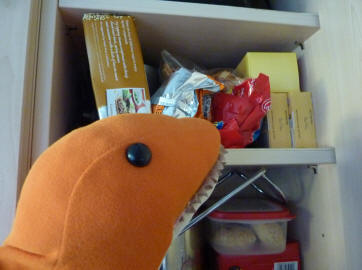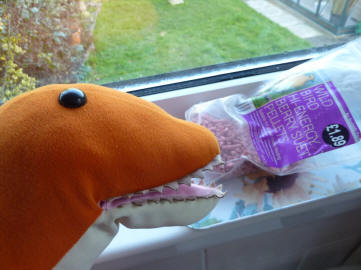 Dino went on an inspection of the kitchen shelves and found some extra bags of biscuits and boxes of cakes, and the mince pies that we made yesterday. He also checked up on the supply of bird feed pellets so our friends outside have something special as well.
26 December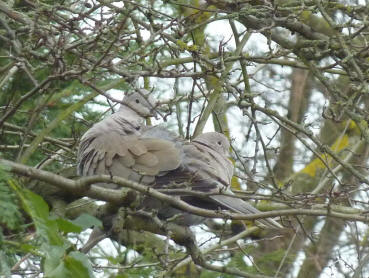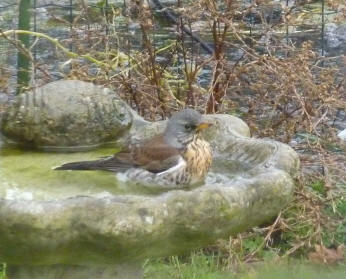 Our two collared doves are still together, and I think the new one has now been accepted as a friend who is allowed to stay. They have realised that it is best to sit in our hawthorn tree, where there is a better view of the kitchen window! We were very pleased to see this fieldfare, a first for our garden. I hope he comes back and we see him and his friends a lot more.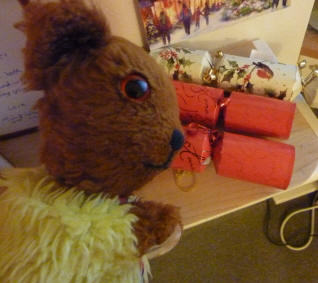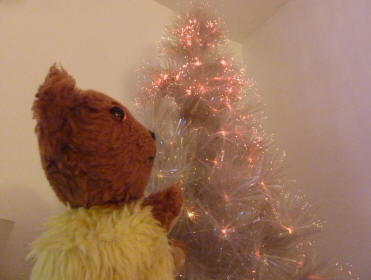 We still have three Christmas crackers left to pull, so Christmas is not over until we do! This fibre optic tree is my favourite, and we always leave it up for quite a while after New Year.
27 December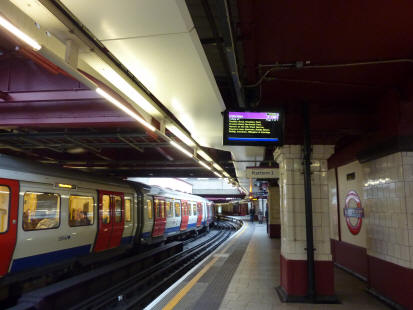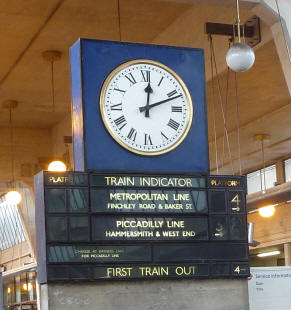 Today we took a trip to Uxbridge which is to the west of London. This is Baker Street station and I liked the very smart red blue and white carriages. At Uxbridge station, this train indicator looks quite old and traditional, with illuminated words behind glass. The clock is as smart as the trains.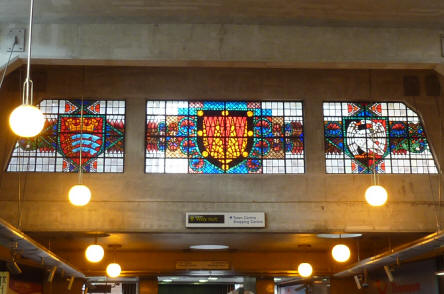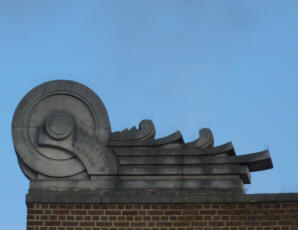 I really liked these stained glass windows as we went out of the station. Outside, there are two big art deco sculptures on top of the building, looking like train wheels.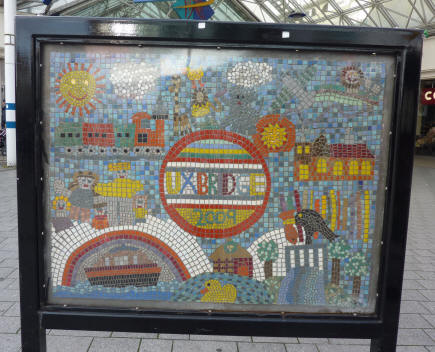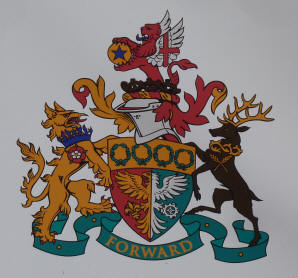 In the town is this beautiful mosaic. The artist based it on drawings and paintings done by local school children. The Hillingdon Borough coat of arms is very colourful as well and I love the motto "Forward". The borough website has an interactive picture of the coat of arms describing what all the parts mean www.hillingdon.gov.uk/article/9240/Hillingdons-coat-of-arms The slips of rye on the stag represent the town of Ruislip, but if you look up the name, it actually comes from "rush leap", a crossing place on the river where rushes grew.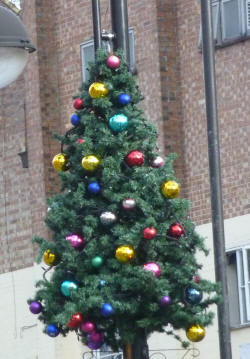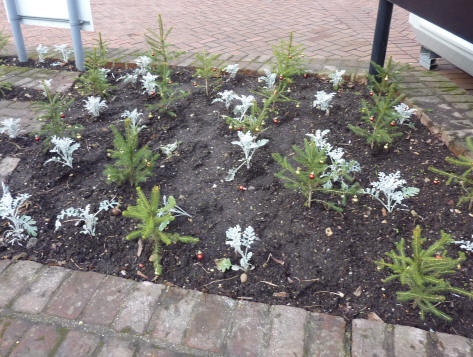 I was very glad to see some municipal Christmas trees with lots of colour, as many of them nowadays just have white decorations. This flowerbed has been decorated as well and the gardeners have put in sprigs cut from a Christmas with little baubles on. They will survive very well in the cold weather, and may even root if they are left in!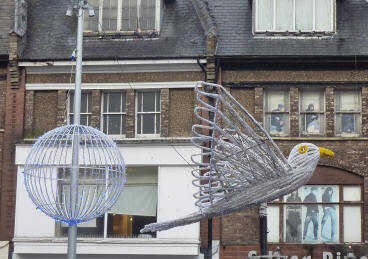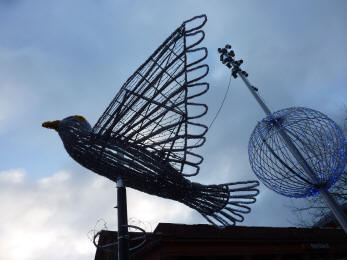 We took the train to Harrow on the Hill to look at the shops. This bird was made of white tinsel round a frame. I took a picture from the other side, so the bird is flying in the sky. This must look really good at night.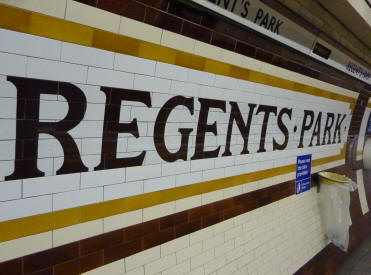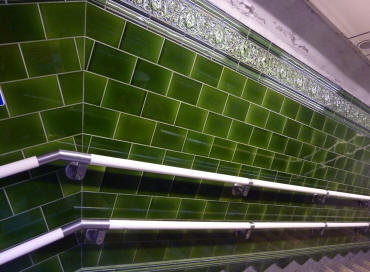 We went back to Central London on our way home. I like to look at all the different tile decorations on the Underground Stations. The green one is my favourite at the moment.
28 December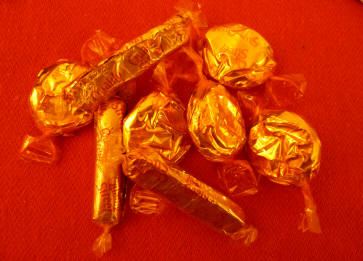 I was amazed that there were still some sweets left over. These are hard toffee ones, which are always the last to go. The good thing about toffee ones is that they take a long time to suck and make disappear, so they last a lot longer than the softies.
30 December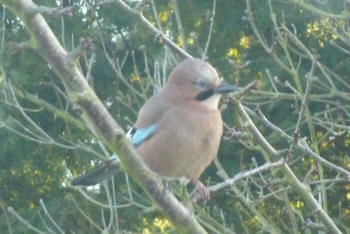 Another surprise visitor in next door's tree, a beautiful jay with blue wings.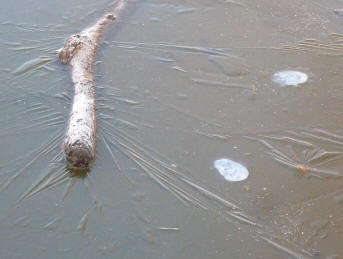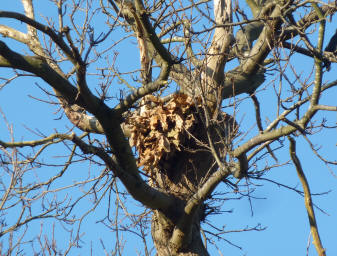 It was cold and frosty, and we went to the park. This very large puddle usually has lots of ducks standing around in it, but not today. I wonder if there was a squirrel fast asleep in this drey. It does not look big enough to stay warm, especially high up in a tree where the wind is colder. Maybe he also has a hollow bit in the tree trunk.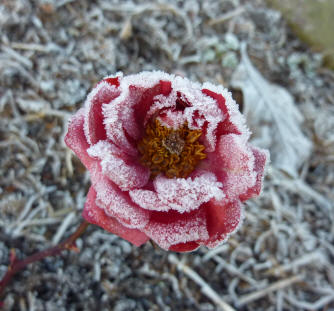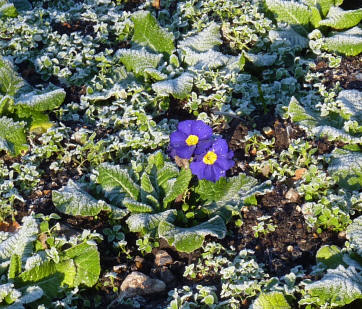 These were the only flowers to be seen, a frosted rose and a primula. I had to look hard to find them.
31 December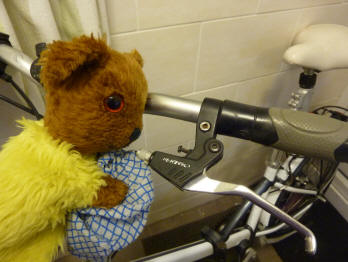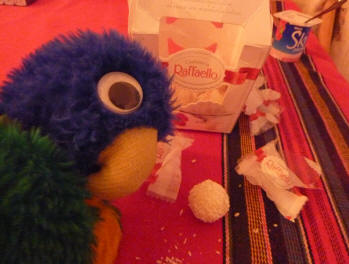 I spent today cleaning up the bike, which we are sending to Africa where it will be given to someone to help them in their work. We take the bus and train everywhere now. Meanwhile, Blue Parrot investigated the unusual coconut cream sweets that someone sent us from another country. When we have eaten them, Blue Parrot has kindly volunteered to peck up all the coconut crumbs.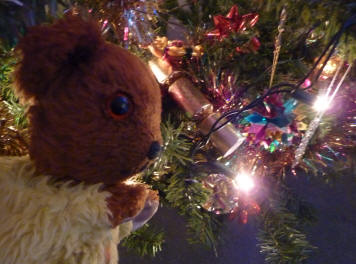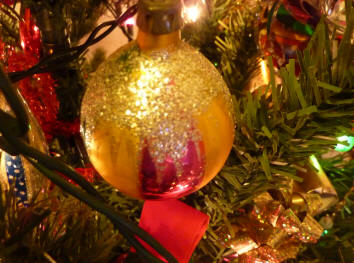 I took a few more pictures of the Christmas tree, as it will be packed away quite soon, and we will just leave the lights draped around the window.