3 August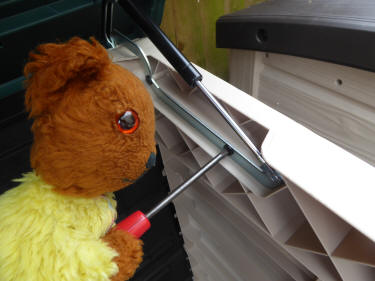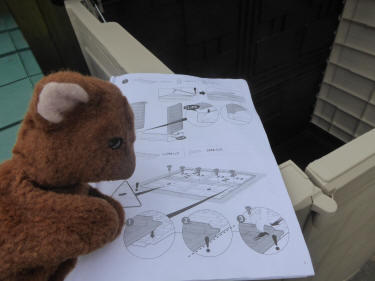 Here I am putting together yet another garden storage box. This is the piston that lifts the big lid and keeps it up. Brown Teddy is checking over the instructions of where to put in the screws.
4 August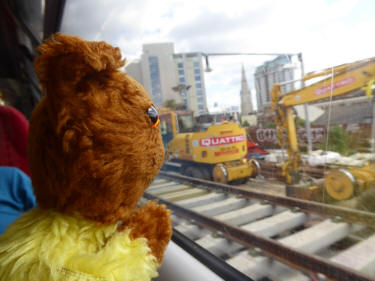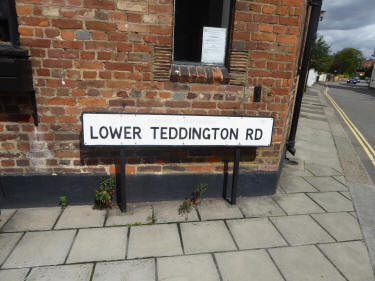 Today we are going back to Kingston for another river walk. This is the work going on at Waterloo Station to make the platforms bigger. In Kingston I think this is my favourite road name.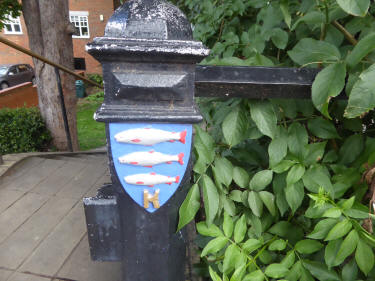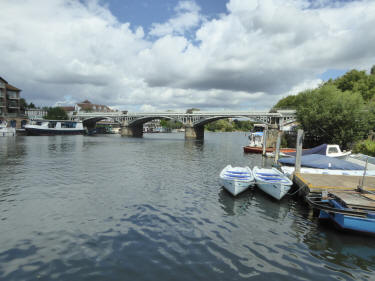 The Kingston coat of arms is three fishes. This is the rail bridge seen from the road bridge.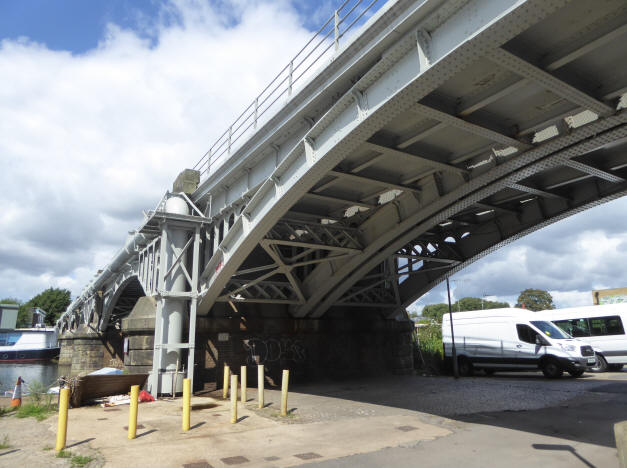 The rail bridge is a lot bigger when you are underneath and the train is thundering over the top. I think our train home later on may be going over it.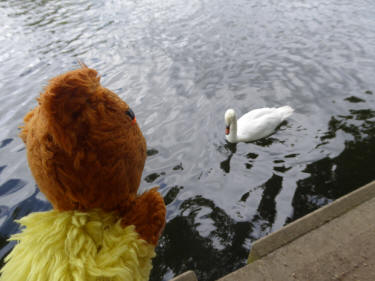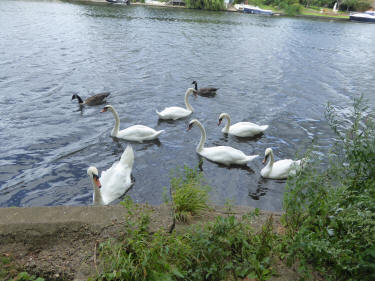 We met some swans but did not have any bread spare for them, but I am sure they get lots from visitors and residents.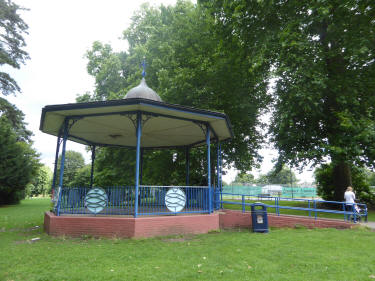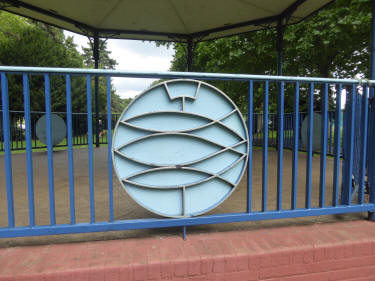 I am glad when towns keep their bandstands. Here are the three Kingston fishes again.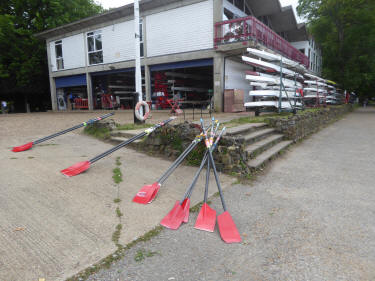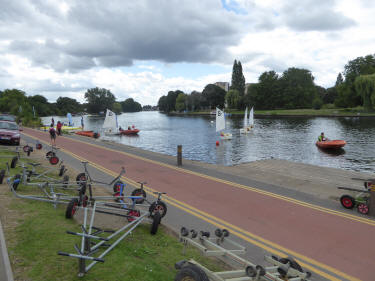 One of the boating clubhouses, and lots of youngsters having safe fun on the water.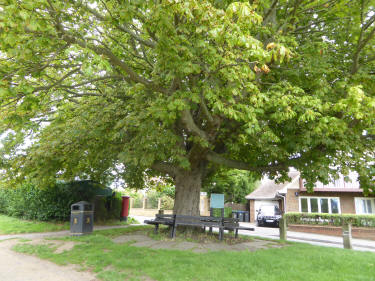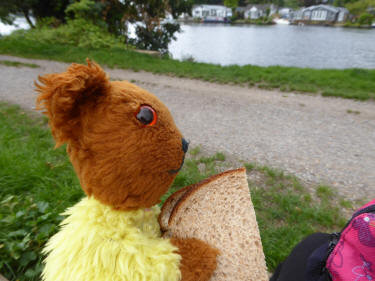 This is the tree that replaced the ancient 500-year-old elm called Half Mile Tree, which was taken down in 1951. It has a circular wooden seat underneath. We sat nearby for our snack.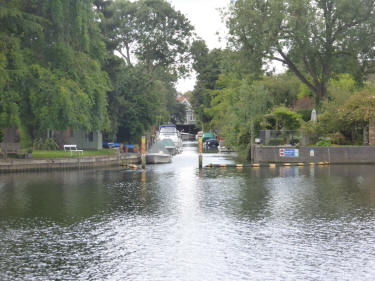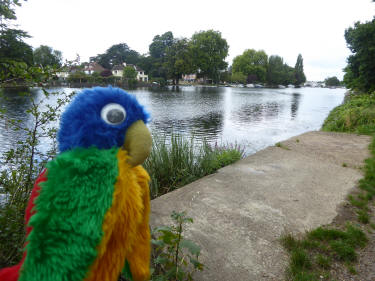 I like this side "road" in the canal, what fun to come down this in your boat to do the shopping in town. Blue Parrot enjoyed his day out with us but we did not let him fly over the river.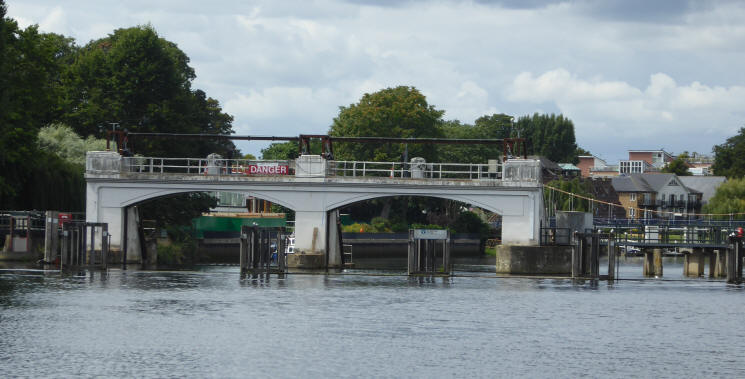 This is the set of weirs just before Teddington Lock. Below the weir the waters are tidal.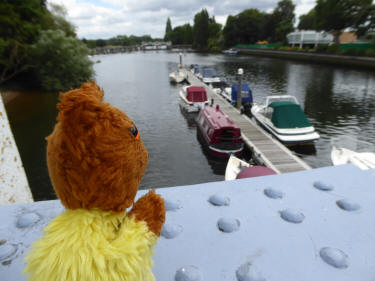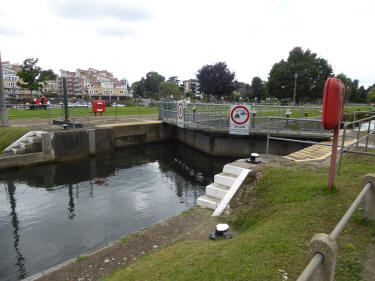 This is on the bridge just past the weirs. Finally we got to Teddington Lock which is several locks and a canoe pass.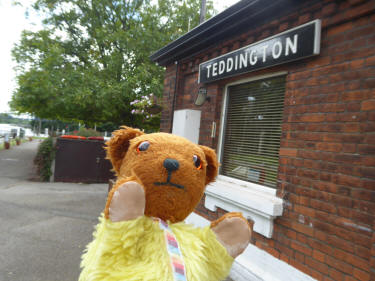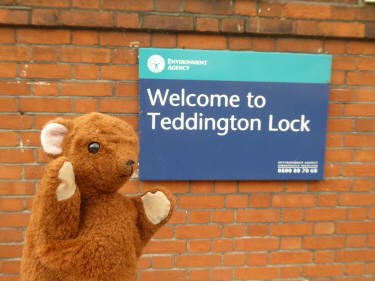 It being our favourite named place, we had to have some selfies in front of the name boards.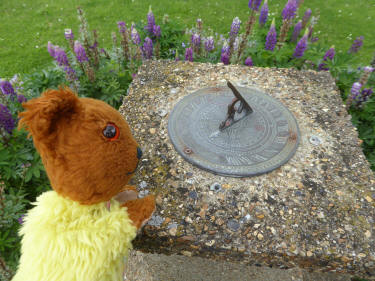 Next to the lock office building they have this beautiful piece of garden. I like this sundial but by the time we got to it, the sun had gone in.
6 August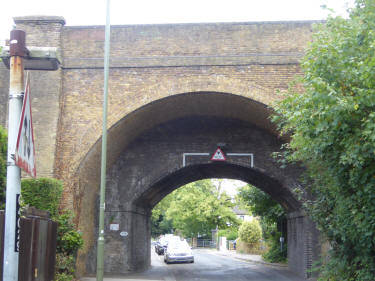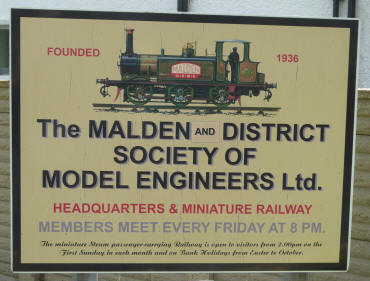 Today we went to see the miniature railway at Thames Ditton. This double arch for the real railway looks promising, one old bit and one clean new bit.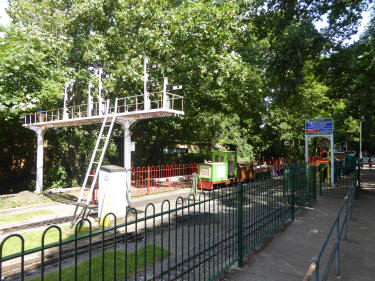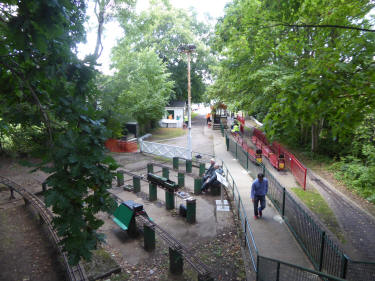 It is a big area with a double outer track and a single inner track. We went up the bridge to get more photos.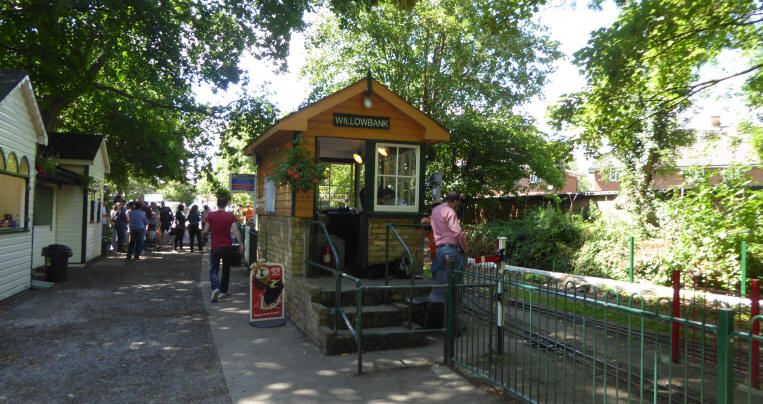 It soon began filling up with people.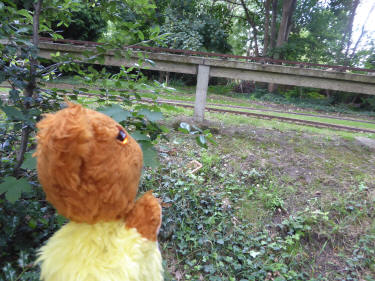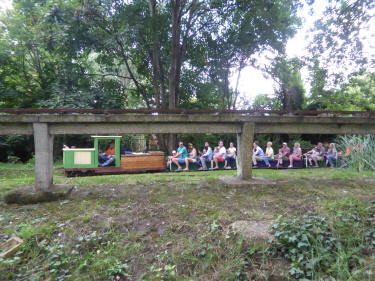 We waited in the central picnic field for trains to come past. There were more grownups than children.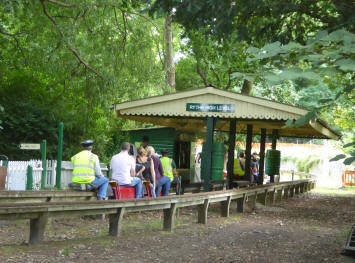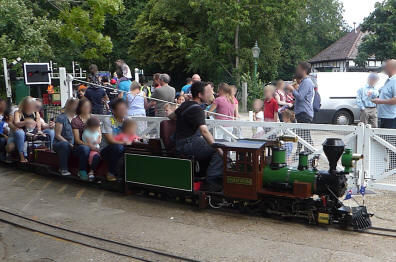 More and more people kept arriving all afternoon. They have lots of trains on the go, to keep everyone happy. What had a really great day and we all want to go back again.
9 August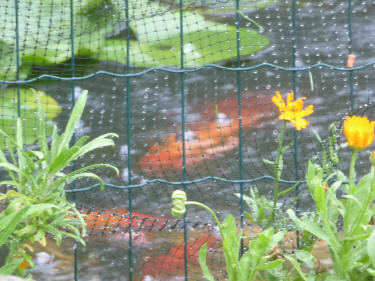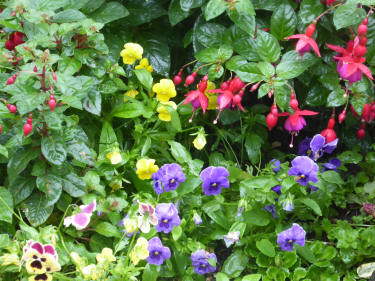 Lots of heavy rain, but the goldfish like it and it is keeping my plants looking good.
11 August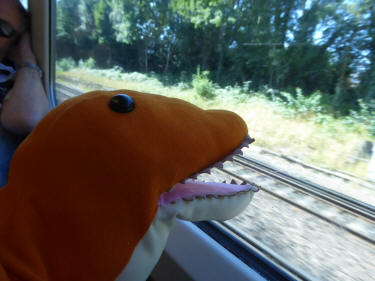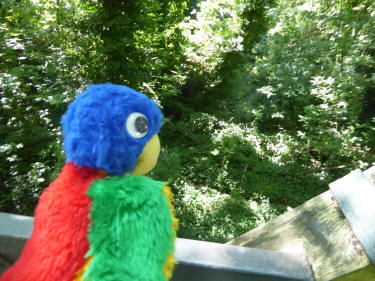 Today we took Dino and Blue Parrot on our day out to Sydenham Hill Woods.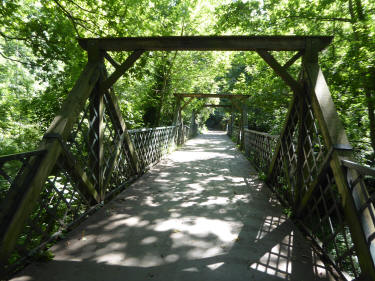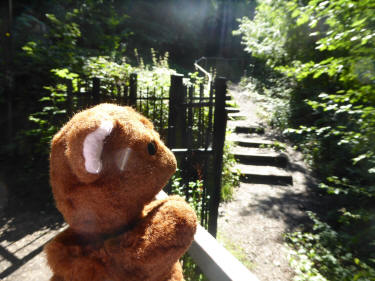 There is an old train route valley through the woods and this is the bridge over it. then there is a climbing path up to the top of the woods. Brown Teddy wondered how many steps there would be, as it looked a lot. But we all decided it would be worth going up.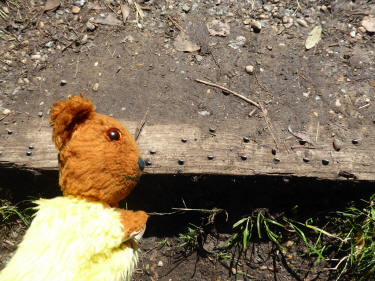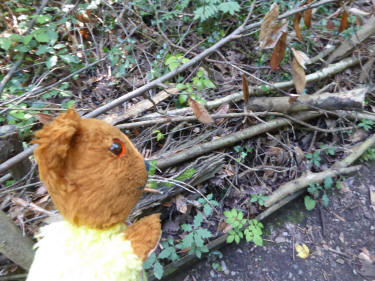 All the steps are held up by these sleepers, with lots of metal cleats hammered in to provide a firm grip for shoes. All along the paths the spare wood and plant material has been woven into hurdles, to keep people from wandering over the edges.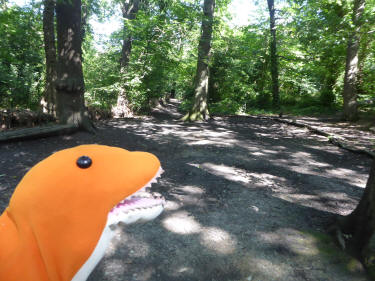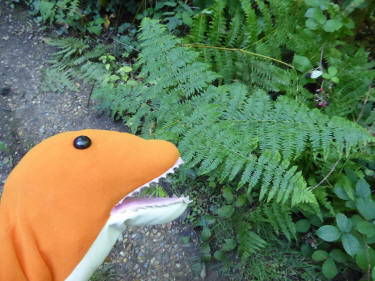 We came across a very large open space in the middle, which we called a dinosaur playground. Dino agreed immediately. He said dinosaurs would probably eat the ferns as well. I am glad to say he did not eat any ferns though.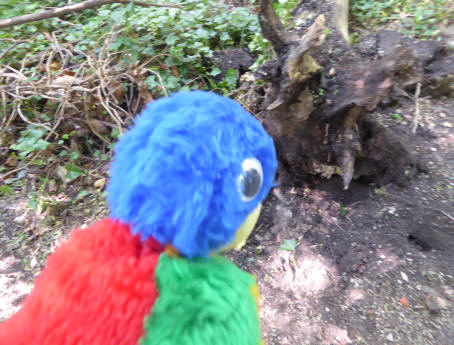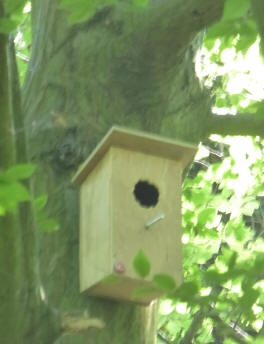 Blue Parrot thought under the roots of this upturned tree trunk would make a good nest hole. Then he changed his mind when he saw the bird boxes on high.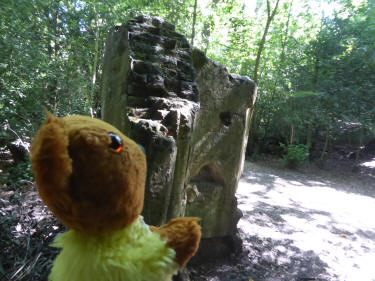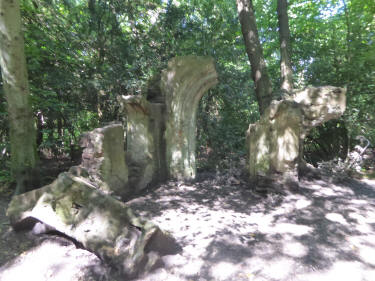 This is a folly of false ruins. We had to come back for our photos, as children passing like to stay a while and climb.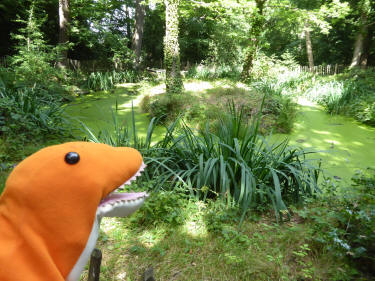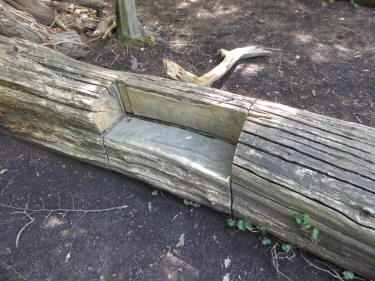 Dino liked this pond in a hollow, covered in duckweed. We all imagined big dinosaurs coming here for a drink and leaving with green covered mouths. This log has a bit cut out, too low down for a seat, so perhaps it was so people can step over, although the trunk was quite small anyway. A bit of a mystery. Perhaps they used the piece of wood for something else they were making.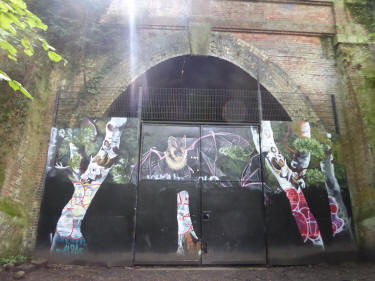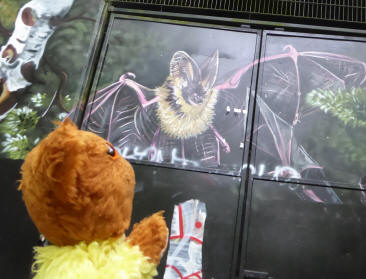 This is the old train tunnel, blocked by a doorway and grilles. It is painted with wildlife and trees.
14 August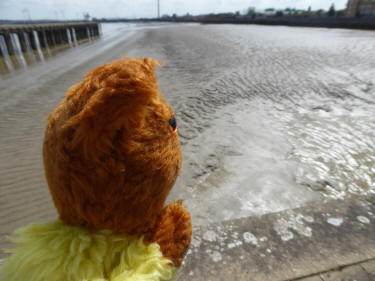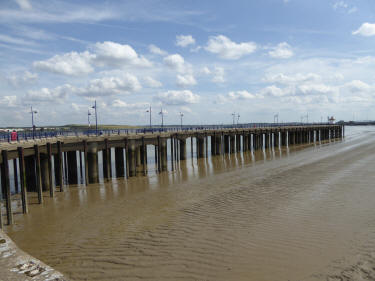 This is the pier at Erith. The tide was out. The mudflats are huge and deep.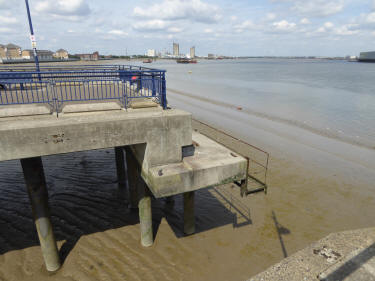 It is more interesting when the tide is in because you feel you are at sea. The weather was mild and sunny.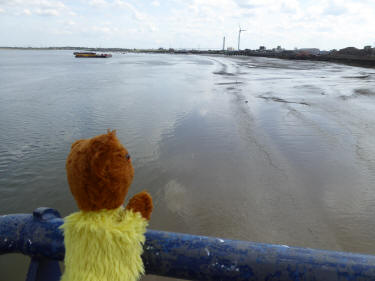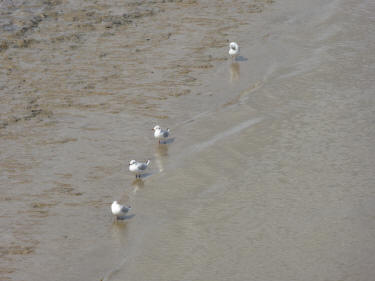 We walked the whole length of the pier. The seagulls did not sink in the mud, but I am sure a person would.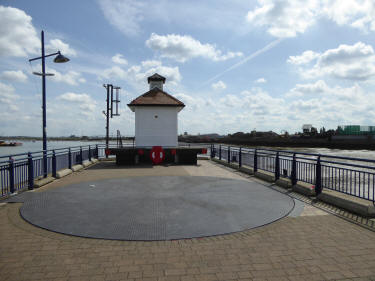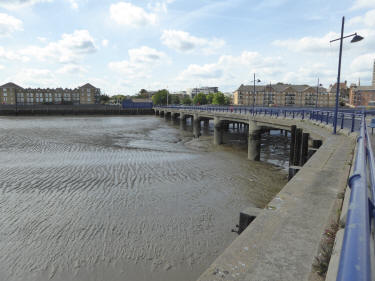 Here is the end of the pier, with a turntable and railway buffers. The tide was now coming in. Maybe another day the tide will be in when we arrive.
18 August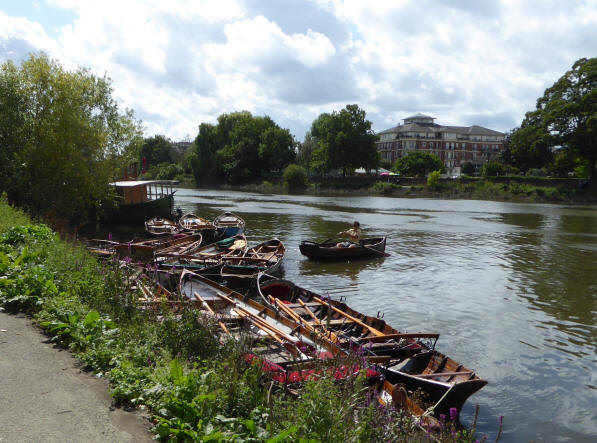 We went to Richmond. We walked down by the riverside. All these rowing boats look like a logjam. You can hire one and mess about on the river for a bit.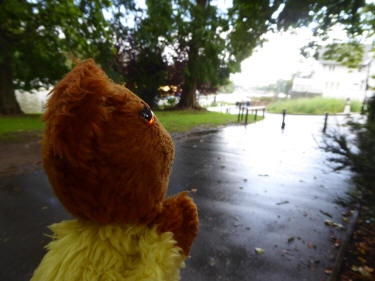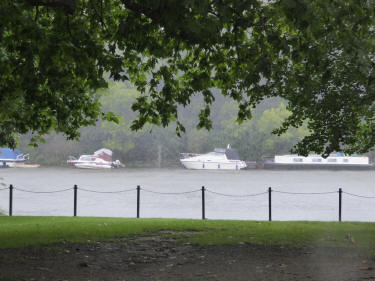 The rain came sooner than we thought. We found a seat under the big trees. The river got very grey and covered in rain plops and circles. It even dripped off the trees onto us and our sandwiches. We sat under our umbrellas. Fortunately it was not cold rain.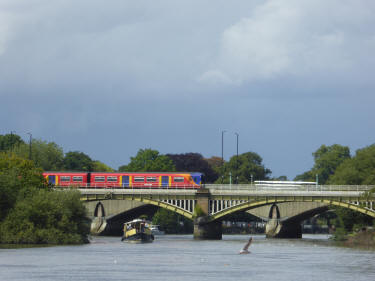 The rain stopped and the sun came out. We walked back towards Richmond Bridge and then past that on to Richmond Railway Bridge and Twickenham Bridge just beyond it.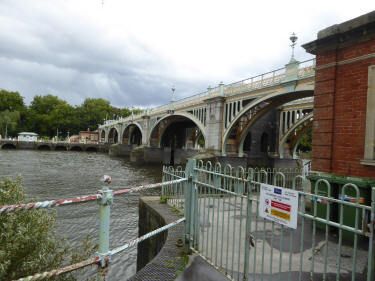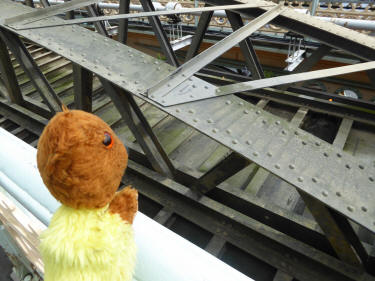 We walked further on to Richmond Lock and went up on walkway to cross over. Here is one of the lock gates, held up on high and on its side. When it goes down, it tilts back to vertical and goes down into the water.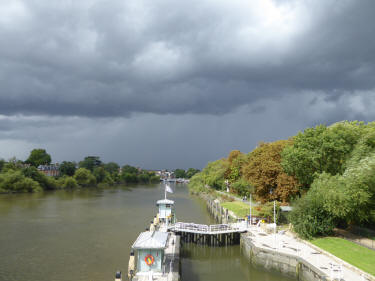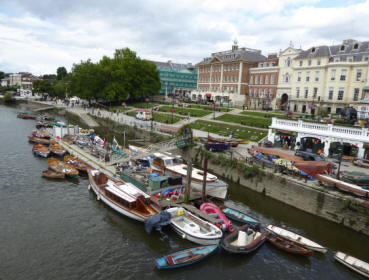 This is looking downriver at Richmond Lock. The rainclouds look threatening but it stayed dry. We walk back to Richmond and back across the bridge. We had a good day despite the little bit of rain.
19 August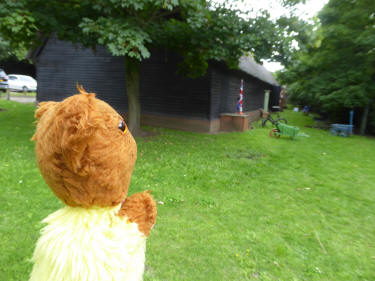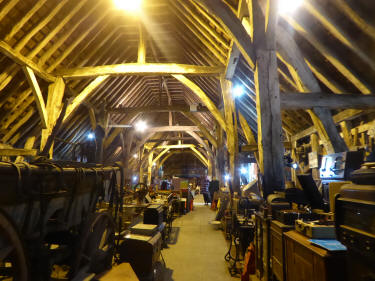 We visited Upminster Tithe Barn Museum of Nostalgia. It is very old and is packed with things from the past, there is hardly room for it all, but that makes it all the more interesting to look around and spot unusual items.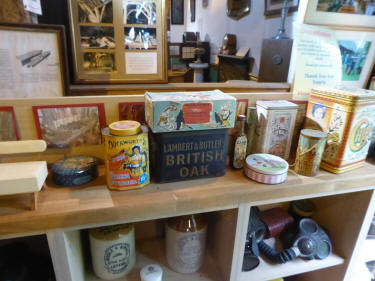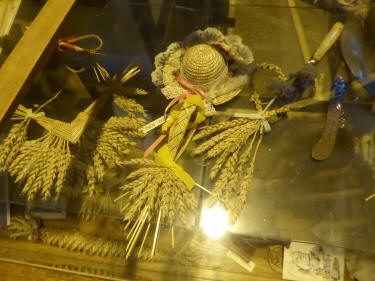 This section is items from kitchens from the past. These are old corn dollies.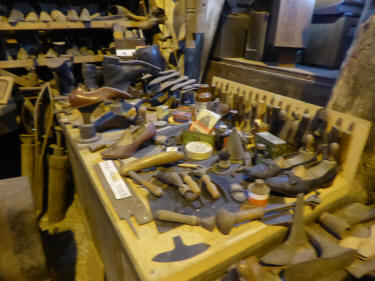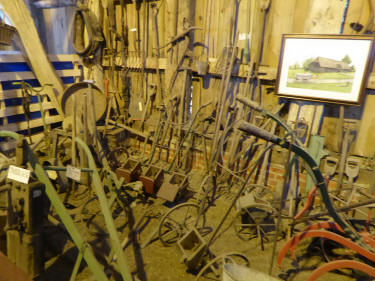 Shoe making and mending stuff, and old farm implements. We had a wonderful time, and different people recognised different things from their past.
25 August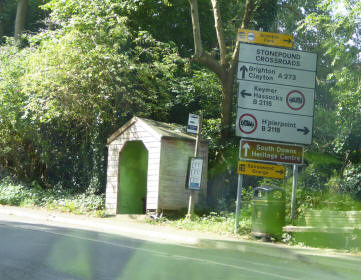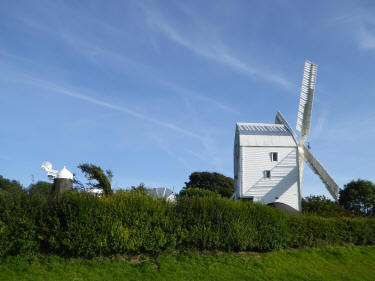 We visited friends in Hassocks in Sussex. Afterwards we went up the Downs to see the Jack and Jill Windmills.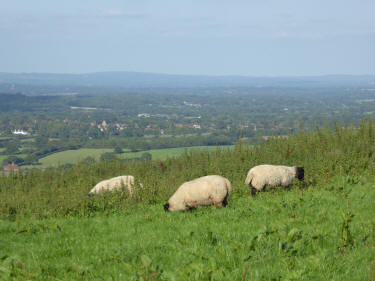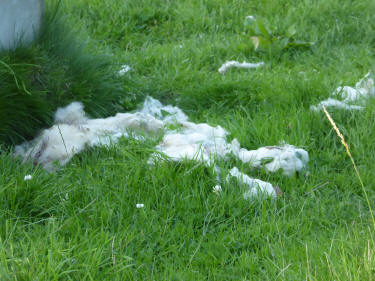 We could see everything below from up on high. There were sheep munching the grass and making tearing sounds as they chewed it. There were no other sounds at all. Around the water trough were lumps of wool.
27 August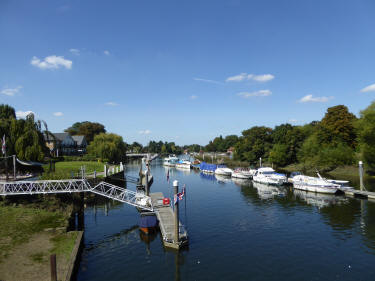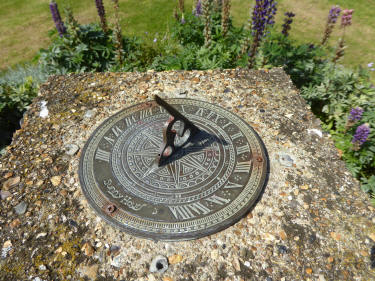 Today we continued our River Thames walk from Teddington Lock to Richmond. The sun was out so I got another photo of the sundial actually showing the time. Last time it was cloudy.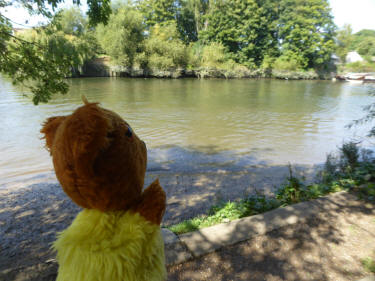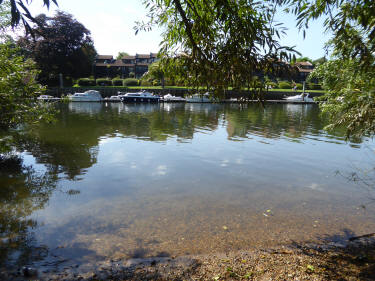 At some places along the path we could go down to the river's edge.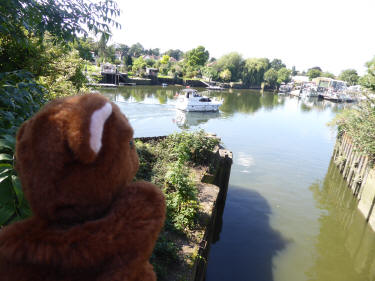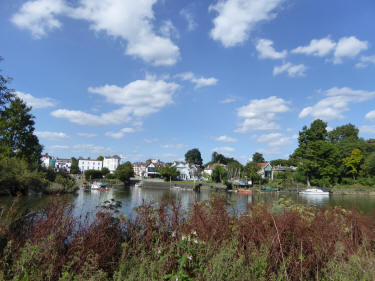 This part of the path was higher up and went over a little bridge. This is getting near Richmond.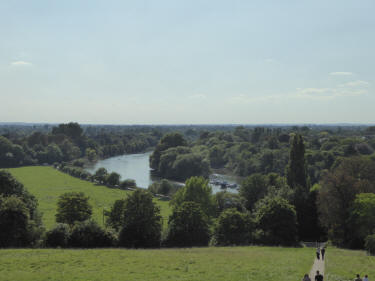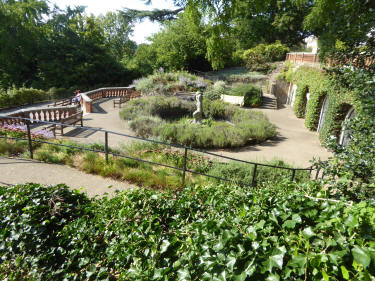 We finally arrived in Richmond and went up Richmond Hill for the view. It was very hot and the river was sparkling. Then we went down into the terraced gardens for our sandwiches.
29 August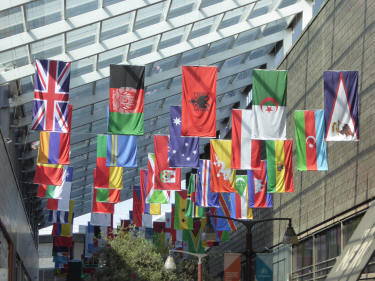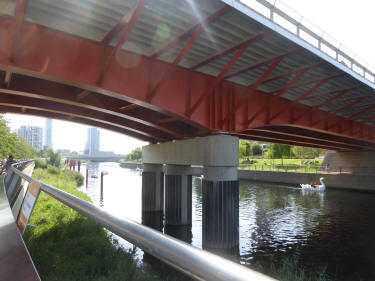 We went to the Olympic Park in Stratford. This is the shopping mall with flags of the world. The canals here are big and wide.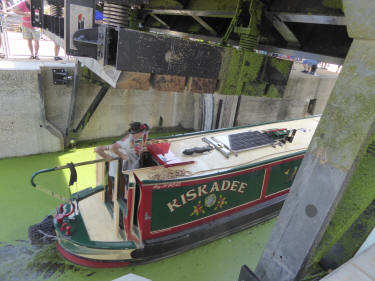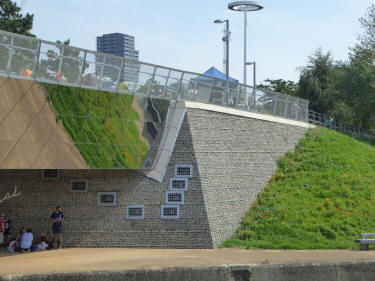 A new set of locks was being opened so there was a festival to celebrate it. The bridge on the left of the second photo is made of mirrors on the underside and it is very strange to look up at it and see the grass and sometimes yourself!